Dell and Novell extend partnership to push Linux
Dell and Novell has announced a deal to offer Novell SuSE Linux Enterprise Server 9 on Dell's single- and dual-processor...
Dell and Novell has announced a deal to offer Novell SuSE Linux Enterprise Server 9 on Dell's single- and dual-processor PowerEdge servers worldwide by the end of the year.

Download this free guide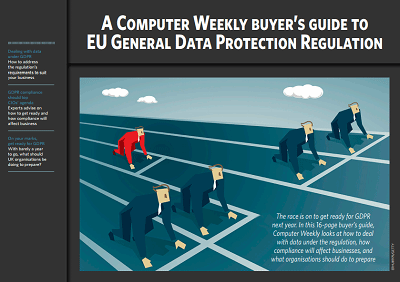 Computer Weekly's Buyer's Guide to GDPR
The race is on to get ready for GDPR next year. Computer Weekly looks at how to deal with data under the regulation, how compliance will affect businesses, and what organisations should do to prepare.
By submitting your personal information, you agree that TechTarget and its partners may contact you regarding relevant content, products and special offers.
You also agree that your personal information may be transferred and processed in the United States, and that you have read and agree to the Terms of Use and the Privacy Policy.
"Today's announcement further demonstrates the focus our two companies share in offering companies choice, and today we're talking about the value that Linux brings to the enterprise market," said Linda York, vice-president of global alliances marketing in Dell's product group.
"These two propositions are truly valued by customers and have always been championed by Dell and mirrored by Novell - customer choice and offering the best value we can into the marketplace."
York said that the partnership provides Dell and Novell customers with more options for fully supported Linux platform deployments and claimed that it represents the best value in the industry.
"The SuSE Linux available on our servers will be at the lowest price in the industry - period. That's for any Linux offering that exists today," York said.
"We strongly feel that the robust server platforms from Dell and Novell, coupled with these compelling price points, will be a very powerful equation for customers moving off of their [Unix-based systems] to standards deploying Linux for the first time or perhaps deploying Linux after already having installed other versions.
"This provides Dell customers another choice for Linux deployment that's optimised for the PowerEdge servers and fully supported by Dell," she added.
According to York, SuSE Linux Enterprise Server 9 on Dell PowerEdge servers 1850, 2800 and 2850 provides customers with a robust and scalable enterprise platform that will allow them to replace costly proprietary Unix-based systems or deploy Linux for the first time.
"The Novell SuSE licence will be an option for these servers and will be dropped into the box preshipment when selected by customers," York said. "This fits exactly with what our customers are asking for - very simple to obtain, and very simple to load."
The SuSE Linux licence, including full technical support, will cost $175 (£96) for a single-processor server and $269 for a dual-processor server.
Ron Hovsepian, president of Novell Americas, said the combined Dell and Novell Linux offering provides a great new opportunity for Novell's customers to deploy Linux at an attractive price.
"We believe this will be another shot in the arm in the market, in the momentum behind Linux," he said. "Dell joining with Novell on Linux is a clear signal to the industry that Novell's Linux strategy and vision are working."
Linda Rosencrance writes for Computerworld
Read more on Server hardware