IBM offers companies monthly security report
IBM has introduced a security service that offers a concise, monthly global-network threat report designed to help organisations...
IBM has introduced a security service that offers a concise, monthly global-network threat report designed to help organisations assess security needs and vulnerabilities from a business perspective.

Download this free guide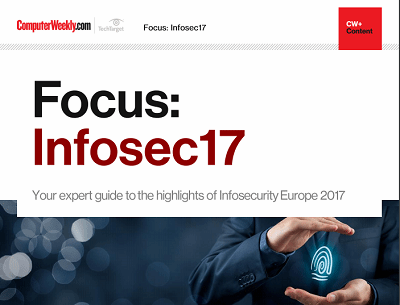 From forensic cyber to encryption: InfoSec17
Security technologist Bruce Schneier's insights and warnings around the regulation of IoT security and forensic cyber psychologist Mary Aiken's comments around the tensions between encryption and state security were the top highlights of the keynote presentations at Infosecurity Europe 2017 in London.
By submitting your personal information, you agree that TechTarget and its partners may contact you regarding relevant content, products and special offers.
You also agree that your personal information may be transferred and processed in the United States, and that you have read and agree to the Terms of Use and the Privacy Policy.
The IBM Global Business Security Index compiles threat information from some 2,700 IBM security professionals and half a million monitored devices, the company said. The data is then analysed by IBM security intelligence and consulting experts to rate the potential severity of IT threats.
IBM is selling the report to businesses as a new IBM Security Intelligence Services offering. The report can be customised by industry and starts at a base price of around $10,000 (£5,446) to $15,000 a year. A portion of the report will also be available every month for free on the company's website, a spokeswoman said.
The Global Business Security Index was introduced on the same day that the company named Stuart McIrvine as the new director of its Global Security Strategy division.
McIrvine said that the Global Business Security Index is the kind of new service customers can expect to see more of under his reign.
"We are getting a lot of feedback from customers that they need help with a company-wide security strategy," McIrvine said. The Index is aimed at the "boardroom" rather than IT departments because it helps companies assess their security vulnerabilities from a business perspective, he added.
The monthly report has threat level scores and a few lines about how to resolve critical issues, McIrvine said. Its advantage over security warnings issued by various anti-virus companies is that it is concise and avoids "information overload", he said.
IBM's introduction of a new security offering comes amid warnings from the company that network attacks have surged in recent months.
Attacks against critical infrastructure providers such as telecommunications companies, utilities and government agencies increased 55% from July to August of this year, IBM said. Meanwhile, overall attacks against enterprises and businesses IBM monitors have increased 27% since July, the company said.
The most prevalent attacks came from worms such as Sasser and Korgo and attackers seeking to exploit vulnerabilities in web server software, IBM said.
Scarlet Pruitt writes for IDG News Service
Read more on IT risk management