IBM's Stinger to take DB2 to the next level
IBM will release its latest version of its DB2 database software, DB2 version 8.2, on 17 September.
IBM will release its latest version of its DB2 database software, DB2 version 8.2, on 17 September.
Codenamed "Stinger", it is aimed at users of Linux and Unix. With prices beginning at $25,000 (£13,900) for DB2 enterprise edition, IBM hopes to take market share from Oracle, the database market leader.

Download this free guide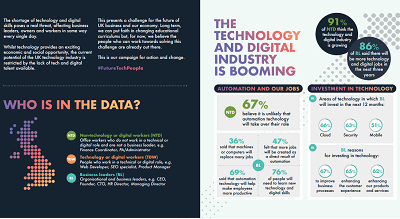 Infographic: Future-proofing UK technology
The current potential of the UK technology industry is restricted by the lack of tech and digital talent available. Read through this challenge for the future of UK business and our economy.
By submitting your personal information, you agree that TechTarget and its partners may contact you regarding relevant content, products and special offers.
You also agree that your personal information may be transferred and processed in the United States, and that you have read and agree to the Terms of Use and the Privacy Policy.
"The general availability of DB2 Universal Database redefines the role of database administration," said IBM.
"The software delivers breakthrough autonomic computing capabilities that allow organisations to complete complex jobs up to seven times faster than before while also reducing the time spent on administrative tasks by up to 65%," the company claimed.
Autonomic computing is the technology that is building self-managing IT infrastructures - hardware and software that can configure, heal, optimise and protect itself.
By taking care of many of the increasingly complex management requirements of IT systems, autonomic computing allows human and physical resources to concentrate on actual business issues, IBM said, citing as an example how, by utilising the latest version of DB2, ScotDB - a leading database design and administration firm - is apparently now able to deliver a database product that manages itself 90% of the time.
"This represents a decisive advantage for ScottDB's smaller customers who typically have limited background in database administration and little or no technical support staff," IBM noted.
DB2 is optimised for the rapidly growing clustered server market, IBM said, and offers unmatched levels of fully automated high- availability, disaster recovery and client reroute for clustered environments, "providing a solution that can be installed in half the time and is one quarter the cost of the Linux HA cluster solutions of other suppliers".
Written by LinuxWorld staff