Microsoft's win on keyboard patents reversed
Microsoft faces a trial over patent infringement charges related to its ergonomic keyboards.
Microsoft faces a trial over patent infringement charges related to its ergonomic keyboards after a federal appeals court on Tuesday reversed a lower court's decision that invalidated the patents.

Download this free guide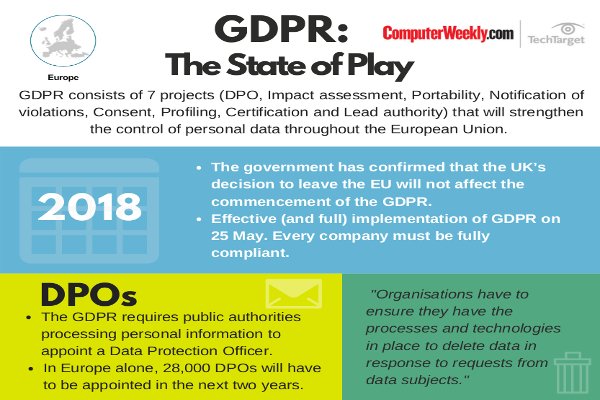 Infographic: GDPR - The State of Play
Get the latest information on how GDPR is going to affect your business and how to avoid any unwanted fines with this simple infographic.
By submitting your personal information, you agree that TechTarget and its partners may contact you regarding relevant content, products and special offers.
You also agree that your personal information may be transferred and processed in the United States, and that you have read and agree to the Terms of Use and the Privacy Policy.
TypeRight Keyboard sued Microsoft in July 1998, claiming that Microsoft's ergonomic keyboards violated its patents. The Microsoft Natural keyboards feature V-shaped designs with keys in separate clusters for the left and right hands and have a large wrist rest.
TypeRight asked the court to stop worldwide sales of the Microsoft Natural keyboard and for millions of dollars in damages, according to Fish & Richardson PC, the law firm that represented Microsoft in the matter.
Microsoft won a motion to invalidate the patents in June 2000. The company argued that the concept of ergonomic keyboards predated TypeRight's patents. Evidence consisted of an undated document from a German company, Marquardt, and testimony from paid fact witnesses.
The US Court of Appeals for the Federal Circuit ruled on Tuesday that there are "genuine issues" with the credibility of Microsoft's witnesses.
"While this is a close case, we conclude that summary judgment of invalidity was improperly granted and a trial is necessary to determine whether the testimony offered by Microsoft to prove that the Marquardt document was prior art is credible," the court wrote.
TypeRight is ready to go to trial but would like to end the case with a settlement, said the company's attorney, Matthew Herron of Meisenheimer, Herron & Steele.
Joris Evers writes for IDG News Service
Read more on IT legislation and regulation