MasterCard joins anti-phishing party
Credit card and payments company MasterCard is partnering with NameProtect, an online brand protection service, to combat...
Credit card and payments company MasterCard is partnering with NameProtect, an online brand protection service, to combat identity theft and the black market in stolen credit card numbers.

Download this free guide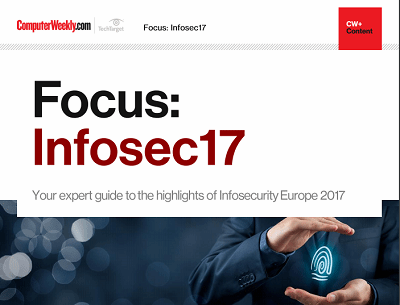 From forensic cyber to encryption: InfoSec17
Security technologist Bruce Schneier's insights and warnings around the regulation of IoT security and forensic cyber psychologist Mary Aiken's comments around the tensions between encryption and state security were the top highlights of the keynote presentations at Infosecurity Europe 2017 in London.
By submitting your personal information, you agree that TechTarget and its partners may contact you regarding relevant content, products and special offers.
You also agree that your personal information may be transferred and processed in the United States, and that you have read and agree to the Terms of Use and the Privacy Policy.
The companies will combine efforts against phishing scams and online identity thieves, taking "a more aggressive approach" to cyberscams that affect consumers and companies.
MasterCard will have access to data from NameProtect's technology, which can search and filter large volumes of internet content to identify scams.
The companies will also work with law enforcement agencies to shut down internet sites and tools used by identity thieves, a joint statement said.
Phishing is where unsolicited commercial e-mail is used to direct internet users to websites controlled by thieves, but designed to look like legitimate e-commerce sites. Users are prompted to provide sensitive information such as user names and passwords, bank account or credit card details, often under the guise of updating account information.
The number of reported phishing incidents increased to 1,100 in April, a 178% increase from March, according to figures from the Anti-Phishing Working Group.
NameProtect's technology can filter information from internet domains, web pages, online discussions and spam e-mail to identify trading rings, phishing attacks and other forms of online fraud.
It will report new threats to MasterCard, which will issue alerts to its 25,000 member network of financial institutions.
MasterCard and NameProtect will also pass information about fraud to authorities like the US Secret Service, FBI and Interpol.
Last week, a cross-industry consortium of companies including Best Buy, AT&T, Charles Schwab, Fidelity Investments, IBM and Siebel Systems formed another group to fight phishing attacks. The Trusted Electronic Communications Forum has representatives from leading retail, telecoms, financial services and technology companies.
It will work with governments, standards organisations and businesses to fix problems such as e-mail and website spoofing, which contribute to the fast-growing online identity theft problem.
Paul Roberts writes for IDG News Service
Read more on IT risk management