US energy dept awards $25m grant for supercomputer build
The US Department of Energy has awarded a $25m (£14m) grant to the Oak Ridge National Laboratory (ORNL) to begin work on what...
The US Department of Energy has awarded a $25m (£14m) grant to the Oak Ridge National Laboratory (ORNL) to begin work on what will be one of the most powerful unclassified supercomputers to be used for scientific research.

Download this free guide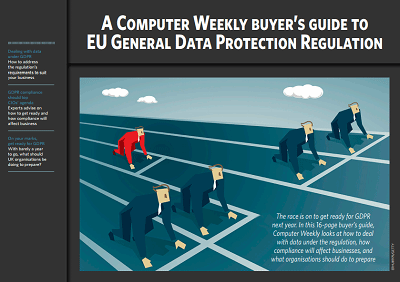 Computer Weekly's Buyer's Guide to GDPR
The race is on to get ready for GDPR next year. Computer Weekly looks at how to deal with data under the regulation, how compliance will affect businesses, and what organisations should do to prepare.
By submitting your personal information, you agree that TechTarget and its partners may contact you regarding relevant content, products and special offers.
You also agree that your personal information may be transferred and processed in the United States, and that you have read and agree to the Terms of Use and the Privacy Policy.
The money will be used to start construction of a 50Tflops supercomputer for nonclassified scientific research at the laboratory.
Cray, IBM and Silicon Graphics will help construct the supercomputer. The ORNL was awarded the grant over three competing proposals from other national laboratories.
Secretary of energy Spencer Abraham said the supercomputer "will enable the Office of Science to deliver world leadership-class computing for science. It will serve to revitalise the US effort in high-end computing".
The DOE had sought proposals from four national labs to improve the national research community's computing capabilities, with a focus on breakthroughs in the science disciplines supported by DOE and other federal science agencies.
The ORNL supercomputer will be housed in a 170,000 sq ft facility which includes 400 staff members and 40,000 sq ft of space for computer systems and data storage. The machines will run on 12 megawatts of power supplied by the Tennessee Valley Authority.
The facility will be open to researchers from around the world for competitive, peer-reviewed work, with computing time awarded to the best proposals presented.
The ORNL also sought an additional $25m for next year, as well as funding for what the lab envisions as a five-year project. If fully funded, the project would cost at least $125m over five years and could total as much as $200m.
The lab will boost its existing Cray X1 computer to 20 trillion floating-point operations per second this year, with another 20Tflops Red Storm-based system from Cray added in 2005. The project could also include the addition of a 5-Tflops IBM Blue Gene supercomputer at the Argonne National Laboratory.
With additional funding, a 100-Tflops Cray system is planned at Oak Ridge in 2006, with the potential to increase that computer to 250 Tflops in 2007.
Todd R Weiss writes for Computerworld
Read more on Server hardware