HP's Fiorina to step down from Cisco's board
Hewlett-Packard chief executive officer Carly Fiorina has opted not to stand for re-election to Cisco Systems' board of...
Hewlett-Packard chief executive officer Carly Fiorina has opted not to stand for re-election to Cisco Systems' board of directors. No reason was given for her decision.

Download this free guide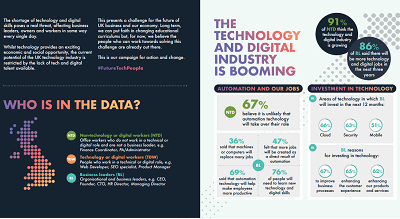 Infographic: How to future-proof UK technology
There is no doubt that the technology industry is booming right now, bringing with it exciting social and economic opportunities. However, there is a real fear that the UK industry may be stunted due to the lack of talent available. This e-guide helps to break down the future fears and expectations of dozens of business leaders and tech workers.
Fiorina, who has been on Cisco's board since 2001, is the only board member who will not be standing for re-election at the company's annual shareholder meeting on 11 November, according to a filing Cisco made with the US Securities and Exchange Commission. She will remain an active member of Cisco's board until the shareholder meeting.
"Carly has played a valuable role as a member of Cisco's board of directors, bringing unique insight as a seasoned industry leader," said John Chambers, Cisco's president and CEO. "Her presence will be missed, but we respect her decision not to stand for re-election.
In addition to holding elections for Cisco's board of directors, shareholders will vote on four proposals at the meeting.
Near the top of the list is a proposal to amend Cisco's Employee Stock Purchase Plan. Under the proposal submitted to shareholders, the company plans to increase the maximum number of shares of common stock authorised for issuance over the term of the Employee Stock Purchase Plan by 100,000,000 shares and extend the term of the plan from 3 January 2005 to 3 January 2010.
Cisco will also ask shareholders to ratify the appointment of PricewaterhouseCoopers as Cisco's independent auditors for the financial year ending 31 July 2004.
Two shareholder proposals will also be among the measures considered.
One proposal seeks to require that Cisco's board prepare a report on Cisco hardware and software products which allow monitoring and interception of internet traffic, prevent selected internet traffic from reaching its intended recipient outside the country of origin, and prevent users from downloading information from selected sites outside the country of origin.
The second proposal asks that Cisco's board to justify any growing gap between the salaries paid to top executives and the lowest-paid workers over a certain period and to prepare recommendations to adjust employee salaries "to more reasonable and justifiable levels".
Cisco's board has recommended that shareholders vote against both shareholder proposals, saying they are not in the best interests of the company.
Sumner Lemon writes for IDG News Service