BMC partners with data synchronisation firm
BMC Software is to partner with data synchronisation company GoldenGate, integrating its software with BMC's own line of database...
BMC Software is to partner with data synchronisation company GoldenGate, integrating its software with BMC's own line of database management tools.

Download this free guide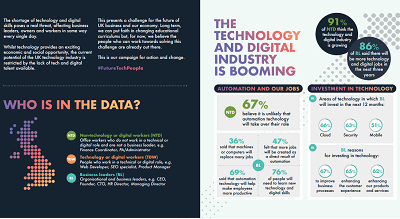 Infographic: Future-proofing UK technology
The current potential of the UK technology industry is restricted by the lack of tech and digital talent available. Read through this challenge for the future of UK business and our economy.
Golden Gate's software is used by large businesses to synchronise information stored in databases in multivendor environments. Its customers include Bank of America, which used the software to keep its customer account information up to date across its systems while it upgraded the infrastructure behind its network of automated teller machines.
The software can also be used for keeping data warehouses up to date for real-time decision support, and keeping backup systems ready for disaster recovery purposes.
Terms of the non-exclusive alliance allow BMC to market, sell, price and support GoldenGate's software almost as if it were its own, said William Donahoo, a vice president with BMC's enterprise data management division. Pricing will be similar to that of GoldenGate's, although BMC can offer packages of products, which could mean a lower price.
BMC also plans to integrate the software with its SmartDBA tools, meaning database administrators will be able to access the GoldenGate software from the same console they use to run SmartDBA. BMC will also provide the first line of support for joint customers, meaning they can deal primarily with one supplier.
"When a customer buys the product they buy it from BMC, and they do it on BMC paper with a BMC licence, then BMC and GoldenGate have negotiated an agreement that allows us both to be 'interested parties'," Donahoo said, declining to elaborate on the financial terms of the deal.
Analysts looked favourably on the partnership. Database administrators need a reliable way to move data quickly between databases in multivendor environments, and the BMC-GoldenGate deal should make life easier for them, said Richard Ptak, principal of Ptak & Associates.
GoldenGate's software works with more than 50 databases. The focus with BMC will be on the platforms supported by its management tools including Oracle, IBM, Microsoft, Sybase and MySQL.
For GoldenGate the deal provides a much broader distribution channel for its products, particularly overseas, while BMC is able to offer its customers a "mature technology" that it did not already have, said Steve McClure, a vice president with IDC's software research group.
Both analysts said the partnership should strengthen BMC's position against its rivals, which include Quest Software. Success will depend partly on how well BMC trains its sales and support teams on GoldenGates's products, and on how well it manages to integrate the software with SmartDBA.
BMC had considered acquiring privately held GoldenGate, a move that would have had both "pros and cons", Donahoo said. In the end it decided the terms of its partnership were more favourable than an acquisition.
James Niccolai writes for IDG News Service