LinuxWorld: IBM exec downplays SCO lawsuit
The man who helped engineer IBM's Linux strategy shared his thoughts on the impact of the SCO Group's $3bn lawsuit on his company...
The man who helped engineer IBM's Linux strategy shared his thoughts on the impact of the SCO Group's $3bn lawsuit on his company during a keynote address at LinuxWorld Conference and Expo yesterday.

Download this free guide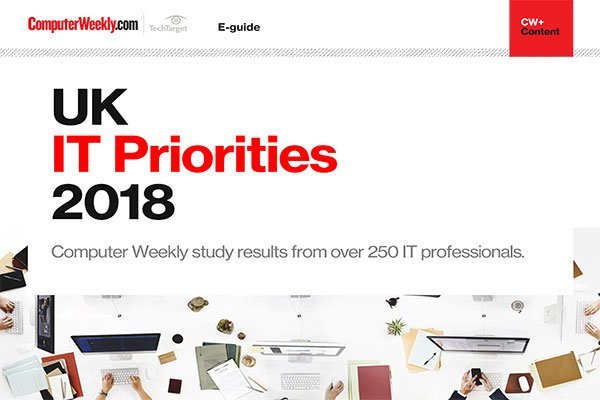 UK IT Priorities 2018 survey results
Download this e-guide to discover the results of our 2018 UK IT Priorities survey, where IT leaders shared with us what they are going to be investing in over the coming 12 months.
By submitting your personal information, you agree that TechTarget and its partners may contact you regarding relevant content, products and special offers.
You also agree that your personal information may be transferred and processed in the United States, and that you have read and agree to the Terms of Use and the Privacy Policy.
"Throughout history, successful technologies have been well remembered, but few remember the inevitable bumps in the road that they all have to resolve to become successful," said IBM e-Business on Demand general manager Irving Wladawsky-Berger.
He made it clear that he did not believe the lawsuit would affect Linux's success. "I fully expect that Linux will continue to be a very successful system in the marketplace and its influence will continue to grow in the IT industry in everything from small devices to very powerful supercomputers.
"IBM and the Linux community will continue working together closely to make this vision of the future a reality."
Wladawsky-Berger has been frequently tapped to develop IBM's strategies in new areas, including the internet, grid computing and, most recently, its effort to provide on-demand computing systems, where customers pay only for the processing power they consume.
His comments on the lawsuit, though vague, were unusual, as IBM executives have remained tight-lipped about SCO's allegations since the company launched its $3bn lawsuit claiming that IBM had inappropriately contributed source code to Linux.
In an analyst panel later in the day, Gartner analyst George Weiss said the entire Linux vendor community's reaction to the lawsuit, and to SCO's subsequent statements that it may sue Linux users, had been unremarkable. "They've been extremely mute," he said.
Analysts at the show said that SCO's lawsuit was having a small, if measurable, impact on Linux customers. Forrester Research analyst Ted Schadler said that about a quarter of the Linux users he had surveyed reported that the lawsuit had at least slowed down their Linux deployments.
Schadler said this was occurring as companies consulted with lawyers and evaluated their legal liabilities, a response that he viewed as prudent. "If you're going to procure open source, you ought to be asking these questions," he said.
IDC analyst Dan Kusnetzky had a different interpretation of the lawsuit's effect. "It's having little impact other than that SCO's reputation is degrading rapidly," he said.
Robert McMillan writes for IDG News Service
Read more on Operating systems software