Court refuses to rehear Infineon claim in Rambus case
A federal appeals court last week denied a request from Infineon Technologies to rehear the court's split decision to abandon a...
A federal appeals court last week denied a request from Infineon Technologies to rehear the court's split decision to abandon a fraud judgement against memory supplier Rambus, which alleged the company improperly influenced a standards-setting organisation to adopt its patented memory technology as part of an industry standard.

Download this free guide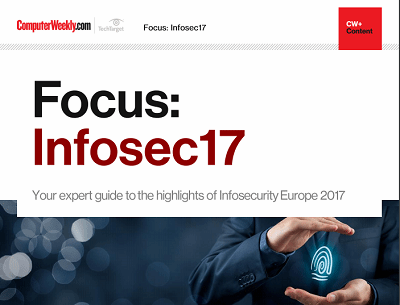 From forensic cyber to encryption: InfoSec17
Security technologist Bruce Schneier's insights and warnings around the regulation of IoT security and forensic cyber psychologist Mary Aiken's comments around the tensions between encryption and state security were the top highlights of the keynote presentations at Infosecurity Europe 2017 in London.
By submitting your personal information, you agree that TechTarget and its partners may contact you regarding relevant content, products and special offers.
You also agree that your personal information may be transferred and processed in the United States, and that you have read and agree to the Terms of Use and the Privacy Policy.
The ruling is the latest in a series of legal victories for Rambus, which has been involved in litigation over its membership in the Joint Electron Device Engineering Council (JEDEC) for several years.
The US Court of Appeals for the Federal Circuit overturned a jury's fraud verdict against Rambus in January, saying that the plaintiffs failed to prove that Rambus sought to obtain patents on SDRAM (synchronous dynamic RAM) technology standard by withholding the fact that it held patents on aspects of the proposed SDRAM standard.
Rambus was a member of JEDEC in the 1990s when the group was developing the standard for SDRAM, but left before work was completed. After the standard emerged, Rambus filed lawsuits against a number of memory vendors that refused to license its technologies for products based on the SDRAM standard which Rambus said, contained patented technology.
The federal appeals court ruled that Rambus could not be held liable for failing to disclose its patents because the rules and regulations of JEDEC concerning patents were poorly defined. Infineon asked the court to rehear its decision, but last week's ruling ended the involvement of the federal appeals court. Rambus is now free to pursue its patent infringement lawsuits against Infineon and other DRAM suppliers.
A separate case is pending between Rambus and the US Federal Trade Commission, in which an FTC judge ruled that Rambus destroyed documents relevant to the case, but denied the FTC's request to skip the trial and proceed directly to the punishment phase.
Read more on IT risk management