Merrill Lynch: war will not hit IT spending
The war in Iraq would not slow IT spending, nor would a quick resolution boost spending, according to the US and European chief...
The war in Iraq would not slow IT spending, nor would a quick resolution boost spending, according to the US and European chief information officers surveyed by Merrill Lynch.

Download this free guide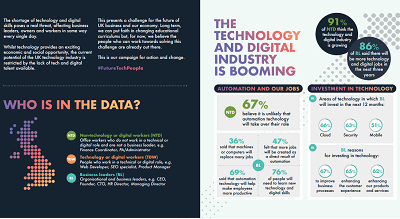 Infographic: How to future-proof UK technology
There is no doubt that the technology industry is booming right now, bringing with it exciting social and economic opportunities. However, there is a real fear that the UK industry may be stunted due to the lack of talent available. This e-guide helps to break down the future fears and expectations of dozens of business leaders and tech workers.
Of the 100 respondents, 73 said the war in Iraq would not slow spending, while 17 said it would. A quick end to the war would only lead to a spike in spending with 10 of the respondents, while 90 said it would not.
Investment bank Merrill Lynch released the results in a report late last week. Of the 100 chief information officers surveyed, 75 work in the US and 25 in Europe.
Even 17% of chief information officers deciding to cut their spending would spell trouble for suppliers with less recurring revenue, such as storage specialist EMC and Sun Microsystems, according to Merrill Lynch. The survey was conducted before the start of the war.
"In general, spending is hampered as much by structural problems in the economy as by war," Steven Milunovich, a vice-president with Merrill Lynch, said.
Away from the war, the survey found that 66% of the chief information officers would like to increase the variable cost portion of their IT budgets, but 65% do not see the utility computing schemes being promoted by suppliers as the way to do that.
Fixed costs such as facilities and staff make up about 70% of an IT budget today, and IBM, Sun and Hewlett-Packard promote "pay as you go plans" to swing that ratio. However, chief information officers say these would not be a real option until 2006, according to the survey.
Chief information officers are spending more to buy servers: 55% said spending on Windows servers is increasing, 38% claimed more money is going to buy Unix servers and 33% said spending on Linux servers is up. Budgets for mainframes are down or flat, said 63% of the chief information officers.
The interest in Unix servers is surprising, and suggests that Linux is not replacing Unix as quickly as some in the market may have thought. The continued decline of mainframes is not new and mainframe rebirth is not expected.