Deutsche Telekom posts record loss but beats Q4 forecast
Deutsche Telekom posted a 2002 net loss of €24.6bn(£16.9bn) on Monday, the biggest in German corporate history, but its fourth...
Deutsche Telekom posted a 2002 net loss of €24.6bn (£16.9bn) on Monday, the biggest in German corporate history, but its fourth quarter marked the start of a revival from record losses.
Europe's top telecoms operator said fourth-quarter earnings before interest, taxes, depreciation and amortisation (EBITDA) rose 14.6% to €4.4bn, beating forecasts of €4.24bn in a Reuters poll of 23 analysts.

Download this free guide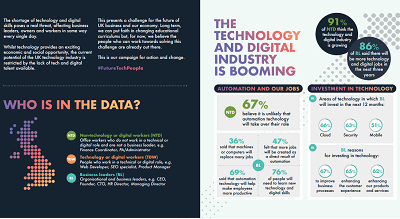 Infographic: How to future-proof UK technology
There is no doubt that the technology industry is booming right now, bringing with it exciting social and economic opportunities. However, there is a real fear that the UK industry may be stunted due to the lack of talent available. This e-guide helps to break down the future fears and expectations of dozens of business leaders and tech workers.
The company said its mobile division T-Mobile International drove EBITDA growth, posting a 24.4% rise to €1.2bn in quarterly core earnings.
Deutsche Telekom cut its debt pile to €61.1bn in the past quarter, beating analysts' hopes of a cut to €61.5bn. It has pledged to cut debt to three times EBITDA, or some €50bn, this year by selling non-core assets and cutting investments.
Write-downs and charges to the tune of €19.3bn on assets bought at inflated prices during the telecoms boom plunged Deutsche Telekom into the red, outstripping its French, Dutch and Spanish rivals, which have also posted record losses.
But the German giant, whose annual loss ranks it along with cell phone giant Vodafone Group Plc, Franco-American media group Vivendi Universal and France Telecom in the notorious €20bn-plus club, narrowed losses in the fourth quarter.
The quarterly net loss fell to €0.1bn in the fourth quarter, down from €2.5bn a year ago.
Its fixed-line business T-Com, which churns out the cash to help fund the other, loss-making but growing divisions, boosted fourth quarter EBITDA to €2.6bn.
However, chief executive Kai-Uwe Ricke's largest gamble on the future remains mobile phone group T-Mobile USA, formerly known as Voicestream, and bought by his predecessor Ron Sommer in 2001 in a controversial $40bn deal.
T-Mobile USA, the smallest of the six national operators and still losing cash, has been aggressive with its marketing efforts in the United States, racking up industry-leading subscriber additions in the past two quarters.
It posted a full-year EBITDA of €0.5bn, showing that the record customer growth in the last quarter did not come at the expense of its newly acquired core profitability.