Cisco invests big in British Innovation Gateway
Cisco has promised to invest U.S. $500 million in the British Innovation Gateway, an initiative to connect two areas in East London into a smart community and increase growth in technology incubation.
Cisco has thrown its weight behind the British Innovation Gateway (BIG), to the tune of U.S. $500 million. BIG is a five-year initiative to spark sustainable and scalable growth of innovative high-tech small and medium sized enterprises (SMEs).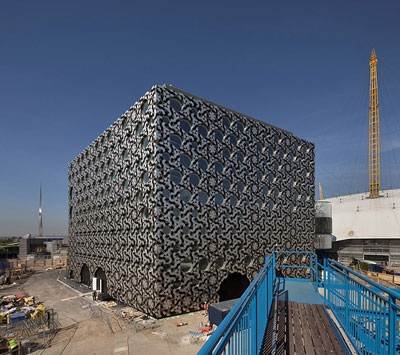 BIG will include two networked Innovation Centres that will form East London Tech City: an open innovation centre in Shoreditch, developed in partnership with the local SME community, and another at the Olympic Park, ensuring an enduring legacy from the London 2012 Olympic Games. The idea is to create a Cisco-powered connected community.
East London Tech City builds on the growth of technology companies in the area with plans to use the Olympic Park press and broadcast centres beyond the 2012 Games as a space for high-growth technology companies.
Linking technology innovators
Centres will be underpinned by state-of-the-art, networked collaboration technologies linking innovation and technology centres across the UK and other global hubs of innovation.
Cisco expects to release more detail of the technology to be implemented as the initiative takes shape. Neil Crockett, managing director of Cisco's UK public sector, said, "Cisco will draw on its extensive portfolio of collaboration architectures, solutions and technologies such as its unified communications solutions and Cisco Quad enterprise social software to create a world-class platform for networked innovation."
In November 2010, Cisco and the Olympic Park Legacy Company announced they had signed a memorandum of understanding to explore opportunities for the park to become a Smart+Connected Community. The intention was for Cisco to create an Innovation Centre including a showcase for ways in which technology can transform local businesses and communities.
"Smart+Connected Communities are part of Cisco's overall approach to making IP-based solutions akin to a fourth utility service for integrated city management. Cisco has already invested heavily in the UK around these services," said Crockett.
Cisco currently has a Smart+Connected Community in Russia. "We have an engagement with Russia on the Skulkova Programme. This is an ICT innovation hub just outside Moscow. While Tech City and BIG are focused on brown site regeneration and development, Skulkova looks at green site development. Both have their own specific challenges and lessons learned from both will be shared. We have also brought Tech City to the attention of European Commission and they will be monitoring its progress," said Crockett.
UK high tech will continue to expand
The BIG initiative will not be restricted to London as there are plans to create a network of UK Innovation Centres and Science Parks including locations in Scotland and Northern Ireland. Early efforts will focus on working with the Birmingham Science Park Aston to build BIG linkages to its iCentrumTM Science Park Without Walls.
"The initial focus of the BIG initiative is on London. However, there is explicit commitment to quickly extending the initiative to the rest of the UK through creation of the proposed 'National Virtual Incubator,'" said Crockett.
The BIG programme is a natural progression to Cisco's involvement in the Olympic Games, said Crockett: "One of the main reasons we became an official supporter of the London 2012 Olympics was to leave a sustainable legacy for UK-based technology innovation. That has a major part to play in helping the UK to… recover from our current economic challenges."
--Tracey Caldwell is a professional freelance business technology writer.
Photo: Design and digital media education institution Ravensbourne chose Cisco technology when relocating its campus from Kent to a regenerated site that will serve as a digital hub in London 2012 Host Borough Greenwich. Photo courtesy Cisco.