Business intelligence now a given for SMBs
Busting at the seams in data, SMBs increasingly are buying into BI for better sightlines into how they do business.
Central Maine Medical Family is small by big-city standards, with some $280 million in revenue and 2,000 employees. But the aim is to get bigger by operating smarter. In order to meet that initiative, the medical center's financial staff looked to business intelligence (BI).
Instead of adding value to our managers, however, we were spending all our time moving data around, creating reports and emailing them to people.
Wayne Bennett
vice president of financeCentral Maine Medical Family
"We want our finance department to be strategic, not transaction-oriented," said Wayne Bennett, vice president of finance at the three-hospital system. "Instead of adding value to our managers, however, we were spending all our time moving data around, creating reports and emailing them to people."

Central Maine Medical Family operates hospitals in Lewiston, Rumford and Bridgton, Maine. Much of its region is rural, stretching from northeastern New Hampshire to the Rangeley Lakes area and just south of Augusta, the state capital. Some 400,000 people turn to the Central Maine Medical Center for medical treatment, Bennett said, but many more "are driving by us," to Portland and farther, for medical care. The center's big push is to convince more central Mainers to seek "care closer to home" -- its new slogan -- by highlighting new offerings, such as its cardiac program.

Download this free guide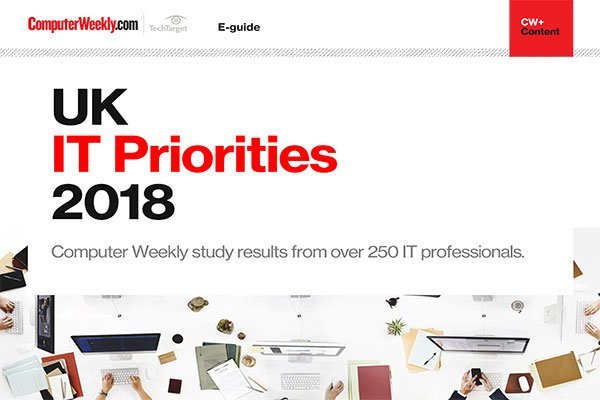 UK IT Priorities 2018 survey results
Download this e-guide to discover the results of our 2018 UK IT Priorities survey, where IT leaders shared with us what they are going to be investing in over the coming 12 months.
By submitting your personal information, you agree that TechTarget and its partners may contact you regarding relevant content, products and special offers.
You also agree that your personal information may be transferred and processed in the United States, and that you have read and agree to the Terms of Use and the Privacy Policy.
Documenting how many people come into a Central Maine Medical Family emergency room for chest pain and from where, and then acting on that information, requires merging many data sources, Bennett said. Excel spreadsheets were proving labor intensive and difficult, besides.
Bennett started looking for a tool that could integrate financial, clinical and patient population data to produce the much-vaunted single version of the truth. "We needed performance dashboards that aligned with our strategies." he said. And employees needed to easily access reports online, so the 30-person financial department did not have to spend its days pushing paper. Business Objects Crystal Decisions, a midmarket product from San Jose, Calif.-based < a href="http://www.businessobjects.com" target="_blank">Business Objects SA, proved to be the answer.
A growth market
Bennett is not alone in turning to BI. According to a recent report from consultancy Gartner Inc. in Stamford, Conn., companies are spending more on BI and using it for more things, from complying with regulatory reporting requirements to measuring system performance. Use of the technology has spread from the confines of upper management to operations people, managers and even customers, pushing what Gartner predicts is a solid 9.5% annual growth through 2010.
BI use by SMBs

| | |
| --- | --- |
| Not using | 45% |
| Using, but not purchasing or upgrading in 2007 | 23% |
| First-time purchase | 8% |
| Minor upgrade | 17% |
| Major upgrade | 5% |
| Don't know | 2% |

Source: Forrester Research Inc., 2006 survey
"It's very much a growing market for SMBs," said Michael Speyer, who covers the SMB market for Forrester Research Inc. in Cambridge, Mass. The push is coming from both small and medium-sized businesses (SMBs) and vendors eager to exploit a promising software niche.

"Companies now realize they can get more out of the data assets they have collected. The growth is also a reflection of the fact that IT systems in the midmarket are quite mature," Speyer said. "BI is relatively less well adopted, compared to other types of applications."

No question the big guys have taken notice. Microsoft, Oracle and SAP AG have set their sights on the BI platform market, muscling in on pure-play BI vendors. Indeed, the variety of choices can overwhelm, said Michael Schiff, principal of MAS Strategies, a BI and data warehousing consulting firm in Reston, Va.

The first step is an IT assessment, Schiff and others said. BI buyers need to identify the various data sources their organizations draw on to do business. And, if the company uses a bunch of technologies from different vendors, a vendor-agnostic specialist, such as Business Objects, may well be the way to go, Schiff said.

Simple, but not dumb

Business Objects' marketing vice president, Todd Rowe, pegs the growth of BI in the midmarket as five times faster than at large companies. "Smaller companies are producing massive amounts of information, but what they don't have is line of sight into their business, so they can make real-time decisions," Rowe said.

@37577 Business Objects rejected the route taken by many vendors to the midmarket, Rowe claimed -- that is, dumbing down the enterprise version and slapping a discount on it. He said Business Objects' midmarket line is simplified for easy use, but it isn't simple in terms of functionality. A new edition announced Tuesday, Business Objects Crystal Decisions Professional, provides data integration functionalities as well as intelligent reporting, ad hoc query and analysis, and dashboards capabilities.

The finance department at Central Maine hired a global consulting firm and Business Objects partner, SDG Group, to help configure the software, Bennett said. "They really understand the concept of business intelligence," he said, and, more important, were able and willing to meet with users and identify "what the pains were" and fix it. "They didn't just install the technology; they spent a lot of time understanding our business needs," Bennett said.

A few months in, the system is getting rave reviews from users. Finance staffers are a tad more hesitant about the change.

"You get comfortable sitting in your cube, moving data around all day and producing reports," he said. "It is a little less comfortable thinking of yourself as going out into the hospital and working with people side by side and teaching them the skills they need to build their financial acumen."

Let us know what you think about the story; email: Linda Tucci, Senior News Writer
Read more on IT for small and medium-sized enterprises (SME)