SAP signs partners to drive Business ByDesign
SAP plans to accelerate and expand the scope of its on-demand SAP Business ByDesign SME offering in the UK through local partners.
SAP plans to accelerate and expand the scope of its on-demand SAP Business ByDesign SME offering in the UK through local partners.
SAP UK has announced six new partners, which the company says will boost adoption and expand the number of industry-specific ByDesign systems.
The company is using the same strategy in Germany, France and the US to build added-value systems for customers faster than SAP would be able to by itself.

Download this free guide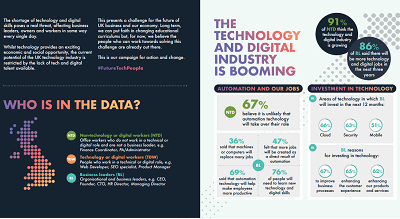 Infographic: How to future-proof UK technology
There is no doubt that the technology industry is booming right now, bringing with it exciting social and economic opportunities. However, there is a real fear that the UK industry may be stunted due to the lack of talent available. This e-guide helps to break down the future fears and expectations of dozens of business leaders and tech workers.
"Our partners offer faster time to value, easy deployment and flexible purchasing options," said Ian Anstey, head of SAP Business ByDesign, SAP UK.
The combined developer resources of SAP and its partners is one of the most important things that differentiates SAP from its competitors in the on-demand market for SMEs, he told Computer Weekly.
The UK ByDesign market has seen rapid expansion since SAP released CRM, ERP and Professional services starter packages for ByDesign and the long-awaited feature pack 2.5 in July 2010.
The feature pack included several innovations, such as real-time in-memory analytics, support for mobile devices and a customisable user interface.
The starter packages enable businesses to get started with ByDesign to address their most immediate needs quickly at a fixed cost. They can then add other elements when they need to, said Anstey.
"We acquired as many new customers in the first six weeks of this year as we did in the first six months of last year," he said.
He ascribes the uptick in adoption mainly to the resolution of the initial infrastructure architecture problems and the introduction of the ByDesign studio software development kit for customisation.
"But I believe we have an early-adopter mentality in the UK, and economic conditions are promoting the adoption of on-demand services," said Anstey.
Despite the UK being a mature market, most organisations need to be open to novel approaches to reduce cost and improve efficiency, which means larger enterprises are interested in ByDesign, he said.
Although the core functionality is aimed at manufacturing and professional services companies, ByDesign customers in the UK come from a broad range of verticals, including media and several startups, said Anstey.
The new ByDesign partners are WNL Ltd, Edson Consulting's Business by the Cloud division, itelligence, G3 Global, Broadgate Infonet.
Read more on IT supplier relationship management