Government may outline copyright protection plans at c&binet meeting
The UK government is expected to use a conference in support of the creative industries to reveal details of an international anti-counterfeiting trade...
The UK government is expected to use a conference in support of the creative industries to reveal details of an international anti-counterfeiting trade agreement (Acta) being thrashed out in secret.

Download this free guide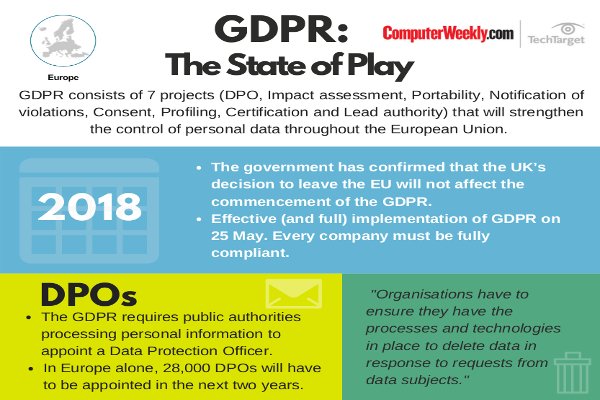 Infographic: GDPR - The State of Play
Get the latest information on how GDPR is going to affect your business and how to avoid any unwanted fines with this simple infographic.
By submitting your personal information, you agree that TechTarget and its partners may contact you regarding relevant content, products and special offers.
You also agree that your personal information may be transferred and processed in the United States, and that you have read and agree to the Terms of Use and the Privacy Policy.
The agenda for the three-day Creativity and Business International Network (c&binet) event will focus on four main themes: access to finance for creative industries; new business models for online content; developing talent; and securing creative rights.
These discussions are unlikely to get far without government input on the Acta talks. The UK Intellectual Property Office has been leading the UK's involvement with Acta discussions. A spokesman for the office referred questions to the European Commission's trade directorate. Officials at the departments of business, innovation and skills, and culture, media and sport, declined to comment on the substance of the talks.
However, Wikileaks, which published the original draft Acta documents, has posted a searchable draft of the proposed agreement.
The last round of Acta negotiations was held in Rabat, Morocco, in July, and the next will be in the Republic of Korea in November 2009. A press statement issued after the July meeting said, "Participants confirmed their intention to conclude the agreement as soon as possible in 2010."
Establishing international standards
There has been widespread anger and suspicion about what is on the table. Initial documents were apparently prepared by US music and film publishers' associations and posted on the Wikileaks website.
These suggested it gave border control authorities Draconian powers to detain and inspect travellers' electronic products for unlicensed goods. It also appeared to license massive surveillance of internet traffic to detect illegal file sharing of copyright material, and to criminalise the possession of unlicensed material.
To defuse the controversy, the US trade department issued a summary in April of the topics under negotiation. It said then that a comprehensive set of proposals for the text of the agreement did not yet exist.
It said Acta aimed to establish international standards for enforcing intellectual property rights to fight the growing problem of counterfeiting and piracy more efficiently.
"The intended focus is on counterfeiting and piracy activities that significantly affect commercial interests, rather than on the activities of ordinary citizens," it said.
"Acta is not intended to interfere with a signatory's ability to respect its citizens' fundamental rights and civil liberties, and will be consistent with the WTO Agreement on Trade-Related Aspects of Intellectual Property Rights (TRIPS Agreement) and will respect the Declaration on TRIPS and public health," it said.
Protecting the creative industry
The Creativity and Business International Network was set up to help businesses solve problems through international dialogue about the creative economy, the government said.
Phil Smith, managing director of Cisco Systems UK, and Ashley Highfield, Microsoft UK's managing director of consumer and online, are panellists, while keynote speakers include business secretary Lord Mandelson, Jean-Bernard Lévy, chairman and CEO of Vivendi, and Elio Leoni-Sceti, CEO of EMI Music.
The c&binet event takes place from 26-28 October 2009 at The Grove in Hertfordshire.
Leading figures from the creative and financial industries are helping to shape the c&binet agenda.
Read more on IT legislation and regulation