Storage Area Network School: Lesson 9
The options asscioated with San backup including backups over a dedicated Lan, tiered backups, Lan-less backup, serverless backup and more
Storage Area Network School: Lesson 9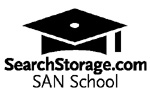 ---

"San backup, The killer app"

Join Christopher Poelker, co-author, Storage Area Networks for Dummies for a webcast on how backup policies, methodology, locating bottlenecks and determining backup windows.
More about "Lesson 9: San backup, The killer app"
There are many reasons to implement a storage area network (San). Data availability anywhere at anytime, cost-saving consolidation and easier management. But, the killer app for implementing a San has been and will continue to be backup. In lesson 9 of SearchStorage.com's "San School", professor Christopher Poelker discusses the merits of backup over the San. Chris will discuss the options asscioated with San backup including backups over a dedicated Lan, tiered backups, Lan-less backup, serverless backup and more. He'll also touch upon snapshots and give you exact formulas to calculate your backup window. This lesson also offers tips and tricks on how to find and rectify backup bottlenecks.
What you'll walk away with:
** Understanding backup
** Determining backup policies
** Choosing the best backup method for you
** Determining how long backup will take
** The ability to ask Chris your specific San backup questions

Please join Christoper Poelker for this webcast right now. Also, follow along with class with this worksheet.
***TEST YOUR KNOWLEDGE OF PART 1 -- TAKE OUR QUIZ***
Now that you've listened to San School lessons 1-4, take the first San School quiz.
***TEST YOUR KNOWLEDGE OF PART 2 -- TAKE OUR QUIZ***
Once you've viewed lessons 5-7, test your skills by taking part two of the San School quiz.
About Christopher Poelker: Aside from being an author and a SearchStorage.com San expert Christopher Poelker is a storage architect at Hitachi Data Systems. Prior to Hitachi, Chris was a lead storage architect/senior systems architect for Compaq Computer, Inc., in New York. While at Compaq, Chris built the sales/service engagement model for Compaq StorageWorks, and trained most of the company's VAR's, Channel's and Compaq ES/PS contacts on StorageWorks. Chris' certifications include: MCSE, MCT (Microsoft Trainer), MASE (Compaq Master ASE Storage Architect), and A+ certified (PC Technician).
Don't miss this event. Make sure to view it today.
Back to the San School table of contents.