Best of VMworld Europe 2010 User Awards: Virtualisation and server consolidation
The best user project in the virtualisation and server consolidation category improved application performance and simplified management.
Best virtualisation and server consolidation project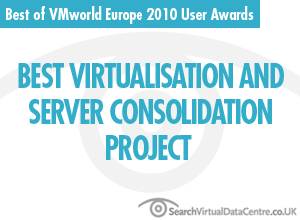 Winner: Bankadati-Credito Valtellinese Group
IT project owner: Christian Manzia
Vendors and technologies used: VMware ESX Enterprise Edition
Compellent Storage Center SAN
Microsoft Exchange Server 2007, Windows Server 2008
IT project: Bankadati-Credito Valtellinese Group's project moved well beyond traditional virtualisation and consolidation of physical servers. The project also improved application performance, simplified management and introduced business process efficiencies.
What the judges said: "Bankadati created more room for applications and data that really need the performance."
Read more on Server virtualisation platforms and management