Best of VMworld Europe 2010 User Awards: Private cloud computing
The top user project in the private cloud computing category used VMware vCloud Director to enable the creation of cloud infrastructure, the first step in a move to a hybrid cloud architecture.
Best private cloud computing project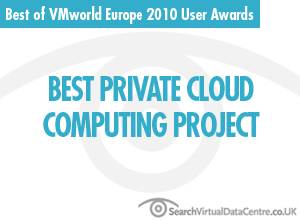 Winner: DNM Technology for Dublin Bay Power
IT project owner: Richard Nunan
Vendors and technologies used: VMware vCloud Director
Dell Inc. EquaLogic
Hewlett-Packard Co. ProCurve
IT project: Using VMware vCloud Director, DNM Technology worked with Dublin Bay Power to enable rapid application deployment, infrastructure self-service, automatic failover of key applications in the event of disaster and, finally, the creation of future cloud infrastructure. This is the first step, Dublin Bay Power notes, in a move to a hybrid cloud environment and the integration of public cloud services.
What the judges said: "Thie project was impressive in adopting VMware vCloud Director in such a narrow time frame."