Data centre
Deciding where and how to build and operate a datacentre is one of the most important decisions your organisation will make. This section covers how to build a solid datacentre infrastructure, including selecting the right location to build your new facility, best practices for designing a new datacentre, and cooling and air flow techniques. Learn about green IT, data management systems, servers and operating systems.
Read more about related Data centre topics:
In Depth :

Data centre
Docker, by default, doesn't come with persistent storage, which presents an issue to some workloads customers that want to run in containers – however, there are ways to achieve persistent storage Continue Reading

How to augment a public cloud strategy with on-premise IT by running workloads in a private cloud and bursting to the public cloud Continue Reading

BMJ's chief digital officer explains how the 170-year-old healthcare publication has negotiated several major digital transformation projects since she joined in 2012 Continue Reading
View All In Depth

Download this free guide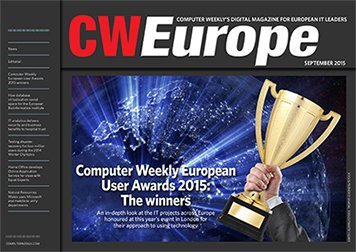 CW Europe – September 2015 edition
Find out the winners of the Computer Weekly European User Awards 2015. The awards aim to shine a light on businesses across Europe that have excelled in their approach to using technology. You can find a full list of winners in this issue and we have highlighted a few through in-depth case studies.
Blog Posts :

Data centre
Given the sensitive nature of the information server farms house, the datacentre community is never all that keen on revealing the precise location of where their facilities are out of fear of ... Continue Reading

VMworld US 2016 suggests VMware is under no illusions about the challenges it faces, as its traditional customers cede control for IT buying to line of business units and start exploring their ... Continue Reading

The reality of what Brexit means is starting to sink in: no one knows for certain what will happen. Six weeks after the UK voted to leave the EU, the weak pound is already causing IT costs to rise ... Continue Reading
View All Blog Posts
Opinion :

Data centre
The emergence of software-defined hardware has given rise to the phrase "infrastructure as code" to describe the way these environments are managed Continue Reading

The government digital movement needs to come out of startup phase and deliver on the real opportunities for public engagement Continue Reading

Quocirca's Clive Longbottom runs through the list of items enterprise IT managers should look for in prospective colocation providers Continue Reading
View All Opinion
Videos :

Data centre
Cloud computing and the internet of things will have a major impact on how security is implemented going forward.

Fitness First has migrated its traditional datacentre installation to a Nutanix converged infrastructure

Problems like data breaches or even website glitches can spread quickly on social media and cause huge reputational damage
View All Videos