Big data analytics
Big data analytics enables organizations to analyze a mix of structured, semi-structured and unstructured data in search of valuable business information and insights.. See complete definition.
In Depth :

Big data analytics
IBM formally inaugurated its Watson Internet of Things headquarters in Munich, Germany in February, and Computer Weekly went to meet the customers and partners who are using Watson AI to deliver on the promise of the IoT Continue Reading

Market for technologies that help organisations make sense of vast volumes of data is hotting up Down Under Continue Reading

Genomics, an IT-dependent area of medical science research, could yet benefit from Brexit by lower barriers to data acquisition Continue Reading
View All In Depth

Download this free guide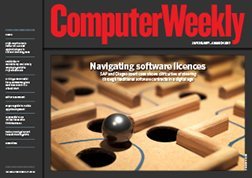 Navigating software licences
In this week's Computer Weekly, after SAP won a court case against a major customer, Diageo, over £58m in charges for indirect use of its software, we look at what this means for users. We talk to the IT consultancy that recruits only autistic IT professionals. And we look at the CIO's big challenges for the year and find out what CEOs expect of ...
Blog Posts :

Big data analytics
This is a guest blog by Ben Calnan, head of the smart cities practice at people movement consultancy Movement Strategies Autonomous vehicles will soon be a reality – in fact, industry commentators ... Continue Reading

It's nice in Nice, we already know that... But that's probably not the central reason why data analytics company Teradata has chosen this southern French city as the location for its EMEA user, ... Continue Reading

This is a guest blogpost by Larry Augustin, CEO, SugarCRM. It's a perennial discussion: what's going to be making headlines in the world of business technology in the coming twelve months? Usually, ... Continue Reading
View All Blog Posts
Opinion :

Big data analytics
Law firms have begun to use AI in the review and analysis of data, which has profound implications for way law firms deliver services to their clients Continue Reading

A real-time data architecture that can support streaming analytics applications is an enticing, yet daunting, prospect for organizations looking to act quickly on information. Continue Reading

Data analytics can help improve decision-making in organizations. But human intuition and judgment need to be part of the picture to keep analytical models from going awry. Continue Reading
View All Opinion
Videos :

Big data analytics
Leading technology experts discuss the trends in enterprise software and how this will impact future applications

Hadoop co-creator Doug Cutting takes time out at Strata + Hadoop World to reflect on the software's effect on development. A willingness to experiment is still a hallmark.

The latest episode of BizApps Today examines barriers to Hadoop technology adoption, SQL-on-Hadoop options and the new concept of data storytelling.
View All Videos