everythingpossible - Fotolia
CIO interview: Anna Berggren, ManpowerGroup Nordics
ManpowerGroup Nordic CIO Anna Berggren talks about the importance of IT to the recruitment firm and the different approaches she takes to managing it
IT was not viewed as a very important part of recruitment company ManpowerGroup's business – but that has shifted radically in recent years.
Today technology is one of the most important strategies for the company across 82 countries, says IT Director Anna Berggren, who is responsible for Nordic Business and Digital IT at ManpowerGroup. "Me and my boss – Lars Forseth, CEO of ManpowerGroup Nordic – have been successful in explaining what has to be done, and to create confidence."

Download this free guide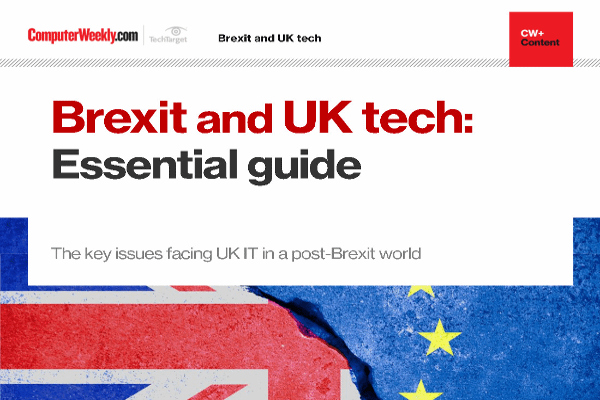 How to lead your organisation through Brexit
Find your way in the post-Brexit world and establish priorities in the face of uncertainty
By submitting your personal information, you agree that TechTarget and its partners may contact you regarding relevant content, products and special offers.
You also agree that your personal information may be transferred and processed in the United States, and that you have read and agree to the Terms of Use and the Privacy Policy.
ManpowerGroup provides recruitment and assessment, training and development, career management, outsourcing and workforce consulting, via different brands. "My role in the company is CIO for the Nordic countries – we just do not have that title. And, in addition to managing the traditional IT, I am also responsible for the digital strategy and for development and management of business processes."
Berggren co-operates extensively with ManpowerGroup's other IT organisations in northern Europe. "I also have global support from our headquarters in the US. And we have a governance model meaning we cannot suddenly make an investment of several million SEK without asking the mother company. So some decisions are local, and some are global."
To bump up IT's importance, it has been paramount to keep up a continuous dialogue with all the management teams in the Nordic countries, according to Berggren. "The different markets and the different brands all have different needs, and I have to acknowledge that. Today IT is a part of the business, and not a group of people hidden away in some corner."
Since Berggren took over the responsibility for ManpowerGroup's Nordic IT in 2008, the number of IT employees has reduced from about 50 to 25. "I have focused a lot on consolidation, offshoring, outsourcing and the cloud. We have chosen to move the responsibility for service desk and infrastructure to our finance department, since it is pretty much a pure client organisation today. At the same time, we have transferred people responsible for business processes to my group."
Offshoring for flexibility
The rationale behind the diminished IT department is increased flexibility, according to Berggren. "The market has changed, and our new organisation means we can easily both speed up and put on the brakes. We have kept some experts, but most of the people have broad competence. I have a lot of IT economists, who can manage the offshore suppliers."
All development is offshored to China, India and the Czech Republic. "I like the increased flexibility, but offshoring has not been a bed of roses. It takes a long time before you get good enough quality, and I have also terminated some offshore deals. Many people say that offshoring is slower and more expensive, but it does not have to be. You just cannot underestimate the work you have to put in."
Berggren says it is central to have the right competence in-house, who can manage the offshore suppliers. "We also co-operate with a company with local presence; they can step in and sort things out if necessary. But it is also very important that we travel to meet the offshored staff in person, both at the beginning of the contract and at the start at each new project. For example, we had problems with a certain type of coding for a while, and then we traveled to China and sat down and talked with them for a few days. We told them what we wanted, and since then there have been no problems with this coding. You have to understand that it is people you work with, not just a cost benefit thing you are doing."
Read more Nordic CIO interviews
For day-to-day communication, the right tools for communication with offshore staff are paramount, says Berggren. "You have to agree each morning on what should be delivered during the day. You no longer spend three weeks writing a requirement specification to send off – those days are gone. It is much better to be agile."
Berggren plans to streamline IT even more, but meanwhile she is taking several new initiatives when it comes to digital services geared at customers, candidates and consultants. "We focus a lot on this area now. But to look after our old legacy systems are of course also at least as important. You always have to strike a balance with how you distribute your resources between the new and the old. We also have things left to make more effective when it comes to traditional IT and infrastructure, and we are working on moving to our global platforms and consolidating our data centres globally."
In five to ten years' time, Berggren thinks the IT department might disappear. "I think technology will be so integrated that the different business units will have the responsibility for it themselves, in the same way as they today are responsible for what they publish in social media. But I do not know exactly how it will be organised, or how the services will be purchased."
But one thing Berggren is certain of, and that is that everything will be more team based. "People tend to want to be divided into departments based on their specialist knowledge, but if you look at startups, they are not organised that way. They work in teams compiled of different competencies, and that is why they can cut the time to market so much."
Projects will also soon be a thing of the past, Berggren says. "I do not believe in having start dates and an end date, like projects have. You have to be more agile, and re-evaluate things on a daily basis. The challenge is to get everybody onboard, and convince them of the benefits of this new way of operating."
Read more on Managing IT and business issues