A group of technology companies supporting European charges of monopoly abuse against Microsoft have accused the software firm of understating its share of the browser market.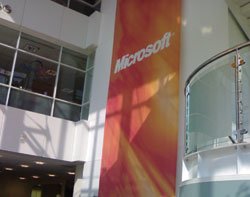 European anti-monopoly authorities have charged Microsoft with harming browser competition by illegally bundling its Internet Explorer with its Windows operating system.
The charges follow and investigation of a complaint by Norwegian browser developer Opera Software that other browsers cannot compete with IE because of its bundling with Windows.
The European Committee for Interoperable Systems(ECIS) technology industry group led by IBM, Nokia and Oracle has accused Microsoft of trying to downplay the extent to which it has harmed competition, according to the Financial Times.
The ECIS through its weight behind the case in April.
Microsoft claims its share of the European browser market has fallen 30% in the past four year and that competing browsers have picked up significant shares, proving strong competition.
But ECIS maintains that the way in which these figures are calculated skews the results towards more active and sophisticated users, increasing the likelihood that alternative browsers will be used.
It also contends that even if Microsoft's figures are correct, the software firm is still abusing a dominant position in the operating system market.
Microsoft filed a defence in April and requested an oral hearing, but then announced it would not attend the hearing.
Microsoft said it had pulled out of the hearings set for 3-5 June in Brussels because important European antitrust officials would be unable to attend.
The US software company claimed it had asked the European Commission for alternative dates, but none had been offered.
If Microsoft fails to appear, the European Union competition commissioner Neelie Kroes is free to go ahead to make a ruling on the case, which is expected in the next six months.
Email Alerts
Register now to receive ComputerWeekly.com IT-related news, guides and more, delivered to your inbox.
By submitting your personal information, you agree to receive emails regarding relevant products and special offers from TechTarget and its partners. You also agree that your personal information may be transferred and processed in the United States, and that you have read and agree to the
Terms of Use
and the
Privacy Policy
.