Microsoft Releases Exchange 12 Beta 1
Microsoft has started beta testing the next version of its e-mail server system, Exchange 12.
Microsoft has started beta testing the next version of its e-mail server system, Exchange 12.
Exchange 12 is designed to run on 64-bit hardware systems to enable users to take advantage of a host of new features, including integrated voicemail and e-mail access and easier mobile connectivity to business applications.

Download this free guide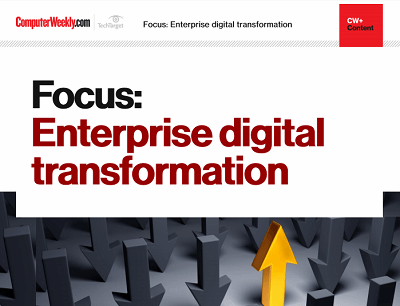 Are you digital to the transformation?
Digital transformation - the buzzword that we can't get away from. Enterprises need to accelerate their digital transformation journeys to avoid being left behind in an increasingly digital world. It's not an easy feat, but one that can be costly to get wrong. Join us as Computer Weekly takes a look at how businesses can stay on track through collaboration, innovation, and listening to user needs.
By submitting your personal information, you agree that TechTarget and its partners may contact you regarding relevant content, products and special offers.
You also agree that your personal information may be transferred and processed in the United States, and that you have read and agree to the Terms of Use and the Privacy Policy.
Exchange 12 Beta 1 has been released to a limited number of users, in advance of the product making an eventual commercial appearance towards the end of 2006 or early 2007.
Microsoft's next version of the Office collaboration suite, also codenamed "12" is expected to appear towards the end of 2006, shortly after the launch of Microsoft's new Windows Vista operating system.
Office includes the Outlook e-mail system that Exchange 12 is designed to support.
David Thompson, Microsoft corporate vice president of Exchange Server, said Exchange 12 would offer end users greater access to their e-mail in-boxes from a wider range of devices, help firms deliver greater protection against spam and virus threats, and also meet tougher data regulatory requirements.
The platform's Exchange System Manager is designed to increase administrator productivity by providing simplified navigation and new filtering capabilities through a rewritten graphical management console.
A scriptable, command line shell also saves IT administrators time by allowing routine and repetitive tasks to be automated. Based on Windows "Monad," the code name for the next version of the Windows command shell, it includes capabilities additional to Exchange System Manager.
Microsoft said automatic client detection and configuration simplifies Outlook set-up and helps avoid end-user confusion, and will reduce the occurrence of one of the most common help-desk inquiries.
Exchange 12 includes updates to Outlook Web Access, the client that allows users to access their in-boxes with a web browser from virtually anywhere with no need for a special network connection.
Mark Levitt, an analyst at IDC, said, "IT administrators need an integrated solution that can automatically inspect and clean both in-bound and out-bound messages, and that stays up to date as threats evolve. Exchange "12" Beta 1 delivers the first wave of functionality to help protect and secure the messaging environment.
Key features of Exchange 12 Beta 1 includes built-in anti-spam protection, automatic updates for anti-spam filters and block lists, flexible anti-virus extensions, and powerful attachment filtering to screen out certain executables and other files.
Erica Rugullies, an analyst at Forrester Research, said, "Exchange 12 promises unified messaging, improved security and manageability through a set of server roles, easier integration with applications through web services, and improved performance and scalability through 64-bit support."

Read more on Operating systems software