AMD to shake up 64-bit computing market
Chip giant AMD is set to shake up the market for 64-bit computing today (22 April), with the launch of its eagerly-awaited...
This Article Covers
RELATED TOPICS

Download this free guide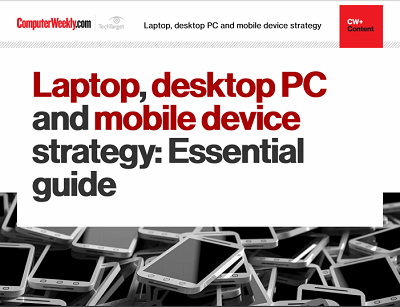 The great debate - to PC or not to PC
IT leaders have greater choice in end-user devices than ever before. The age of PC-only users is over and we have entered the multiple device era. In this guide, you can find best practice, analysis of the latest trends, and expert advice on formulating enterprise strategy in laptops, desktop PCs and mobile devices.

Chip giant AMD is set to shake up the market for 64-bit computing today (22 April), with the launch of its eagerly-awaited Opteron processor for servers and workstations. The move will bring 64-bit systems within reach of more business users.

Opteron's compatibility with existing 32-bit technology means users will not have to upgrade software that is already in use.

Simon Cole, AMD's strategic marketing manager, said, "The big shake-up will come from the compatibility. At the moment there are two islands of computing: 32-bit and 64-bit."

Users today are either on one island or the other, but Cole said the new processor will provide a bridge between the two. "Opteron doesn't force users to upgrade - you can run 64-bit where you need to and 32-bit where you have to. It will be cost-effective," he said.

Cole foresees Opteron lowering the cost of 64-bit computing - price has prevented users from investing in the technology. He said, "At the moment you need a big Unix box to run 64-bit computing. Opteron will lower the entry cost for that."

Although unable to provide specific examples of potential cost-savings prior to the launch of Opteron, Cole is certain that it will be a cost-effective option for users. "It opens the doors to what was previously prohibitively expensive," he said. Cole also confirmed that AMD will launch Athlon 64, a desktop version of Opteron, in September.

AMD's plans come at a time of heightened activity in the 64-bit market. Hardware giant Dell is planning to launch Itanium-based products later this year and Microsoft's Windows Server 2003, which is due to be launched two days after Opteron, will support both 32-bit and 64-bit processors.

Analysts have already predicted that Dell's foray into Itanium could bring prices down by as much as a third in the 64-bit market. Jonathan Eunice, principal analyst at Illuminata, said, "The roll out of Itanium from a supplier such as Dell could push the cost of machines using 64-bit technology down by at least 20% or 30% within a year.

"Lower-cost 64-bit technology will be particularly useful for users working with high-performance computing and, secondarily, databases."

Andy Butler, an analyst with Gartner, also believes that Dell's foray into Itanium will stimulate the 64-bit market, although he was unable to quantify how much users could save. "The savings are going to come from price competition between Dell Itanium systems and existing 64-bit Risc systems," he said. "For example, a Dell Itanium processor could be very cost-effective against a 64-bit Risc system from the likes of Sun and IBM."