Libya's internet service is still down following a weekend of blackouts, according to Google's Transparency Report.
Traffic in Libya fell to almost flatline levels on Thursday evening and has not yet recovered. However, James Cowie, from internet monitoring firm Renysys, says unlike in Egypt the internet has not been killed off entirely.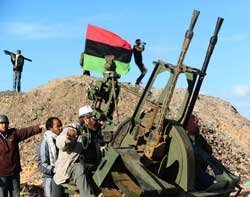 "The BGP [broader gateway protocol] routes to Libya are still intact, which means that the Libyan ISP's border routers are powered on and the fiberoptics are lit. In fact, we've identified a handful of isolated live IP addresses inside Libya, responding to ping and traceroute, and presumably passing traffic just fine. Someone in Libya is still watching YouTube, even though the rest of the country is dark," he said in a blog post.
Libya has only one Internet Service Provider with international connectivity, Libya Telecom and Technology (LT&T), which is run by the Gaddafi family.
"Each Internet route to Libya flows through this one provider's infrastructure. So on Thursday afternoon, like turning off a tap, the stream of traffic was slowed to a trickle, and then to a few drips," said Cowie.
"Together with restrictions on journalist movement, it will provide temporary cover for some of the endgame brutality, and for that reason, it's deeply sad.
"When some future government faces this decision, backed into a corner by a popular uprising supported by Internet communication, they will probably reach the same conclusions that Libya and Egypt did: re-establish control over national communications at any cost, and pick up the pieces later," he added.
Email Alerts
Register now to receive ComputerWeekly.com IT-related news, guides and more, delivered to your inbox.
By submitting your personal information, you agree to receive emails regarding relevant products and special offers from TechTarget and its partners. You also agree that your personal information may be transferred and processed in the United States, and that you have read and agree to the
Terms of Use
and the
Privacy Policy
.