Working on a TV revolution
Digital television is providing a new career option for IT professionals and Brighton is the centre of the industry, writes...

Download this free guide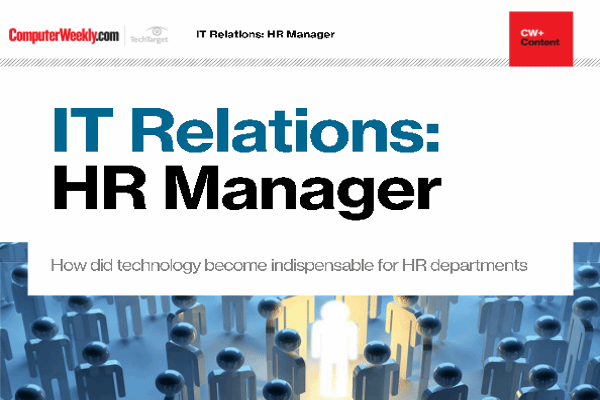 How did technology become indispensable for HR departments
HR and IT departments have begun to work closely together over the last few years. While HR historically has often received limited attention, companies now understand the key role the department plays in the business.
By submitting your personal information, you agree that TechTarget and its partners may contact you regarding relevant content, products and special offers.
You also agree that your personal information may be transferred and processed in the United States, and that you have read and agree to the Terms of Use and the Privacy Policy.

Digital television is providing a new career option for IT professionals and Brighton is the centre of the industry, writes Nathalie Towner



By 2003 it is estimated that over half of UK households will have access to digital television (DTV), making the UK the most advanced DTV marketplace in the world.

Brighton is already well on the way to establishing itself as the heart of the UK's DTV industry with large numbers of new-media companies gravitating towards the area. This, in turn, has led to an increasing number of skilled ITers settling in the locality.

So it seems only natural that the University of Brighton should be the first college in the world to launch an MSc dedicated to DTV and interactive television (iTV) services.

"The MSc is currently in its first year," says course leader Richard Griffiths. "The idea developed with [DTV content provider] Victoria Real, which was very interested in bringing together all the people and all the skills needed for iTV."

Victoria Real hopes the course will make it easier for it to find the right people to work in the industry.

"What is happening is that people are coming in with either Web design skills or a broadcast TV background. Some don't know about the technology side, others don't have the broadcasting knowledge," says Griffiths. "They need to understand about all aspects of iTV.

"People need to know what the hot issues are. If they are busy developing a project for one particular platform they might find out one month before that it is going out on a different platform."

Brighton University is also providing short DTV courses of between one and three days for people who want a formal grounding in the industry.

Andy Wypo, a producer at Victoria Real, attended the three-day usability course. "I found it useful because I need to find out what users want and design systems around it," he says. "For our prototypes we can develop up to seven different products focusing on different aspects of functionality."

Wypo started out in the DTVindustry testing multimedia CD Roms and now oversees the technical and creative teams. A lot of people in his technical team come from a computer studies background. "It is technically desirable to have Java and C++ and, for the front-end, HTML and Javascript," he says.

Wypo says members of the technical team should ideally have had exposure to back-end Web systems, although the skills needed vary according to the needs of the individual project.

"Last year we worked on Big Brother 2 and the timescales were a big challenge," he says. "At one point we were dealing with 27 third parties specialising in anything from hosting, infrastructure to streaming."

Not all the projects are as high-profile as Big Brother 2 - a lot of the company's business comes from gaming companies that want to develop betting sites. "We have to work out wallet-management systems, how to pay for the bets, how to store the winnings and, of course, implement the security," explains Wypo.

David Maddon, new-media director at DTV company Communicopia, believes developers need to have a major input in the design of the project. "We don't have a separate team of developers and designers, they work together from the beginning," he says. "They have to be clever to achieve the same functionality as experienced on the Web. They are more confined in the way they work but still have to make the delivery compelling."

The restricted way of working is down to the browsers in the set-top boxes, which do not support Macromedia Flash. In terms of functionality, they are like Netscape 3.

Maddon is also on the look out for "hot database developers".

"Virtually everything we work on is database-driven," says Maddon. "We are currently working on a pilot project to update the NHS Direct Web site to make it work on TV and add video-on-demand content.

"It has all been about creating partnerships and putting all the relevant information into the database, so we created XML links and sucked out all their data."

As an example of how it works, Maddon says people living in Hull should now be able to look at the blood transfusion service on TV and be able to search for their nearest service.

Most recruits to DTV enjoy the feeling of doing something new and being part of an industry where, so far, there are few rules and pretty much everyone is learning as they go along.

Because of this, Maddon does not look for experience in the field when he is recruiting. "Most colleagues come from a traditional Web development background," he says. "I choose people with strong skills and without any preconceptions about digital television."

Although frustrated by the lack of functionality on certain platforms, Maddon knows it will all kick off soon, "We are all ready to go when it happens." he says.

Free University of Brighton DTV training courses for Computer Weekly readers

Computer Weekly has teamed up with the University of Brighton to offer 12 readers places on DTV training courses free of charge. IT professionals do not need any previous experience in the DTV industry to join these courses. All you have to do is e-mail cwxtra@rbi.co.uk with your name, job title and contact details and which of the courses listed below you want to attend. The winners will be drawn from a hat on 5 March. Please put "University of Brighton" in the e-mail subject area.

Digital Television Marketplace
One-day seminar on the fundamental principles and potential benefits of DTV. Explore the basics of what DTV is, what it can be used for and which companies lead the UK market. The course will look at enhanced and interactive TV applications from around the globe and explore the limitations of today's technologies, how this effects content development and how this might change in the future.

Understanding Digital Television Technologies
Three-day practical course for people who want to get to grips with DTV technologies. The course explores the design, development and deployment of DTV applications.

Project Management in Digital Television
Intensive three-day course for people who want to enhance their project management skills. The course aims to equip attendees with the theoretical principles and practical tools to deliver high-quality digital output on time and within budget.

Understanding Usability
Hands-on, three-day course for those concerned with the usability of new designs and products. Learn a range of practical techniques for evaluating usability at every stage of development. Understand how usability activities slot into the design development process.

For more details on the courses go to www.brighton.ac.uk/interactive/
Read more on IT jobs and recruitment