What you need, when you want it
Major storage players are falling over themselves to provide storage on demand to the IT market. What are the services on offer,...

Download this free guide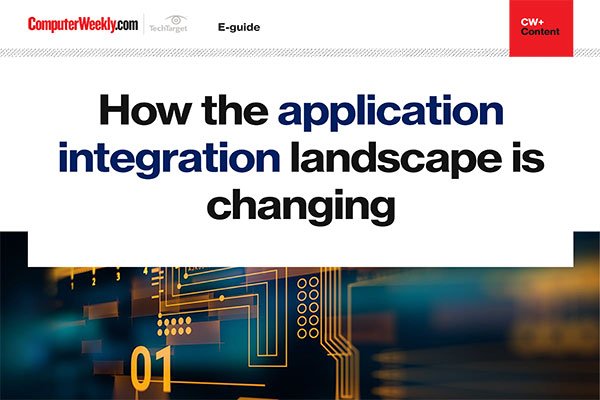 8 ways in which the application integration lanscape is evolving
We take a look at how technologies like Distributed Computing and the Common Object Model have been refined into web services, service-oriented architecture and composable applications and microservices.

By submitting your personal information, you agree that TechTarget and its partners may contact you regarding relevant content, products and special offers.

You also agree that your personal information may be transferred and processed in the United States, and that you have read and agree to the Terms of Use and the Privacy Policy.

Major storage players are falling over themselves to provide storage on demand to the IT market. What are the services on offer, and what do they cost?



What is storage-on-demand (SoD)? It's a service offering enabling an instant upgrade of storage by means of a private utility. Analyst Meta Group - preferring to refer to SoD as just-in-time (JIT) storage - has suggested small-to-medium sized enterprises (SMEs) are facing annual growth of 500-plus per cent in storage management needs, leading to significant pressure on infrastructures, with associated increased overheads. Researchers at IDC chip in with the comment that such growth in data storage requirements will threaten companies' competitiveness resulting in them becoming more-and-more information-centric.

Meta Group believes that 'up to 2005 enterprise storage capacity growth will exceed 125 per cent a year - that's 150 per cent for NT/W2K, 100 for Unix and 30 for S/390 - and will deliver annual 35 per cent raw price/capacity improvements. This growth will necessitate the setting up of a data/media centre of excellence to manage platform-independent, network and channel-attached storage servers and to enable data and media independence. And all that while driving enterprise storage-area networks, Sans.'

By 2005, Meta believes value-added functions, integration, interoperability and manageability will be the main enterprise storage differentiators. Managing data growth will be one of the major challenges facing IT managers over the next two years.

The analyst says: 'While raw storage costs - today that's 8-to-16 cents/megabyte - are declining on average by 35 per cent per year, overall management costs actually increase this by anything up to 15 times. Why, how? Things like people, software, replication, etc. So users need to move to a pay per usage or JIT model.' META expects a cost of 10-15 per cent of initial price for JIT, which could add up to 1-cent per megabyte over direct raw storage purchase costs.

There's keen emphasis from META that JIT storage is 'not a methodology for reducing raw storage costs'. It's a longer term operational process for optimising capacity planning, improving application development lifecycles and managing storage management cost increases. Kumar likens this model to the manufacturing sector, where some costs are passed back to suppliers in real time (but only when they're integrated into core operational processes. Much activity over the next two years is forecast by Meta, where suppliers will seek to achieve market leadership through a focus on end-user operational issues, as opposed to pricing models.

'Users should include JIT in their storage procurement,' says Meta. 'By 2004, we believe over 75 per cent of storage requirements will be supplied through JIT systems.' Robert Huntley, StorageTek's marketing director for N Europe, says: 'We introduced SoD services in June 1999 through our solutions business group. Then we restructured to focus on core activities. We found a changing business model in providing storage and services on demand. The company comprised a part selling equipment to gain hardware revenues and a part concentrating on SoD. But there was a conflict.'

The answer was to split. StorageTek is committed to manufacturing and selling products. Managed Storage International concentrates on the SSP arena. Selling StorageTek kit and technologies, Managed Storage has its own sales and marketing operations.

Tony Cox, IBM Global Services' storage, San and assessment service manager EMEA, says: 'From industry research it looks like the market for network-delivered services could exceed $45bn by 2003, with storage accounting for up to $8bn. Currently we're seeing early adopters out there, and we believe there'll be a shake-out in the market leaving a handful of players, not 10s.'

Cox points to three models IBM is contemplating: on-site for the client (managed and monitored by IBM and a third party); remote housing and monitoring (no floor space, don't need disk on premises); and remotely managed and monitored. Surprisingly, Cox believes the UK is the most advanced market, although the US got there first. Clients are also interested in Germany.

IBM's Managed Storage Service (MSS) provides customers with options for purchasing storage capacity and management services, as mentioned, on-site or off-site at over 175 global data centres.

Sun's view is that storage will evolve more and more into a utility. Businesses depending on applications running 24x7 need storage, like electricity, as an always-on resource that supports the application.

'It needs to be able to scale, in capacity and performance, as requirements change,' says Chris Atkins, Sun's storage marketing manager. 'Ideally storage will be charged for on a utility model too, with customers merely paying for what they use. SoD is one element of the utility model, either being enabled by storage equipment manufacturers or, more likely in the future, by SSPs. The SSP route has the advantage that it doesn't require the customer to choose one particular storage equipment manufacturer. Instead users can choose the SSP which delivers the required service level agreements at the minimum cost.'

'Deploying the model as outlined will produce hidden opportunity cost savings outweighing the extra cost on raw storage prices,' says META. 'There's tremendous scope for managing the expected exponential growth in storage.'

Analysts on user benefits
Widespread opinion on key benefits:
Service delivery and billing. Granular billing is expected to emerge as a favourite.
Capacity planning. JIT storage enables users to manage storage over different applications daily in the most optimal way, and to practically obviate the need for detailed planning throughout the year. A major advance with JIT is seen as reducing manpower spend for capacity planning.
Disaster/recovery/business continuity. Spare capacity in the event of a disaster is provided at minimal cost.
Application development lifecycle and change management. Both these disciplines call for temporary storage and the model accommodates this with optimised costing.
Administration. Short-term extra capacity is called for when a company runs certain routines (database work, archiving, etc). The model supports such working.
Types of service

IBM's Managed Storage Services (MSS) is offered on a pay as you use basis, price/Gb/month, after one-off set-up, design, transition costs - www.ibm.com/services
Hitachi Data Systems offers just-in-time storage, through global data centres in San Diego, California and Sefton Park near Slough, UK, on a purchase, lease or subscription basis over 12, 24 or 36 months. Prices range from under $.01/mb/month to $.05/mb/month depending on terms and level of service - www.hds.com
EMC is responding to the market through StorageNetworks, the storage service provider, but is not seen as having a formal programme (it claims to offer individually-tailored on-demand offerings) - www.emc.com
Managed Storage International, spun out of StorageTek and with exclusive access to StorageTek products and technologies, offers services under the pay as you use model - www.managedstorage.com and www.storagetek.com (or .co.uk)
Sun's approach is to offer storage that is priced, and can be bought on a modular basis. Sun can offer SoD itself with appropriate provisioning and financing plans or through partner SSPs such as StorageNetworks (www.storagenetworks.com) and Intechnology - www.sun.co.uk
Hewlett-Packard, building on product from Hitachi Data Systems, is servicing the sector under the strapline 'e-storage on demand' with XP256 and XP512 high-end disk systems (www.hp.com)
Bull, building on product from EMC, with its CDA8 delivers an add-on in a few days (not a physical extra disk)
Compaq offers what's considered to be an enhanced leasing model - customers install capacity based on anticipated needs but pay according to forecast usage
SSPs and case study

Robert Ames, boss of The Data Company (Europe), says there are a number of different approaches to SSPs broadly summarised as: managed SSPs with a public utility model or private utility; SSP enablers; and enhanced SSPs.
Managed SSPs, public utility, appear like traditional electric, gas, water, phone companies. Customers plug in to the san (cf the National Grid) to get as much or as little as needed, and only pay for the amount used.
Managed SSPs, private utility, appear like an ASP to the customer company. All data resides on customer systems but SSP carries out a management function from its own management centre.
SSP enablers are like a value-added reseller, akin to an 'SSP in a box' model. Third parties may be co-location provider, ISP or telco.
Enhanced SSPs are more focused on the end-user with a personal model. If you go over the usage threshold, you have to pay a fee.
Small mobile ASP 2sms.com (www.2sms.com) offers a 24x365 text messaging service with its systems located in Telecity. Downtime equates to lost revenues and lost customer goodwill. It wants data backed up off-site, business continuity, no additional fixed costs and no extra staff. The Data Company (www.the-data-company.com) enables 2sms.com to focus on core business in mobile text messaging.


SUMMARY
Experts say that 70 per cent of all servers sold next year will be for storage. This begs the question 'do companies want to pay so much for storage year-on-year?' This could provide an opening for storage-as-a-utility players.

Frank Booty
Read more on Integration software and middleware