Doug Washburn considers the role of virtualisation in achieving cloud economics in the datacentre and mediating the teeming array of digital platforms with which employees handle organisations' data.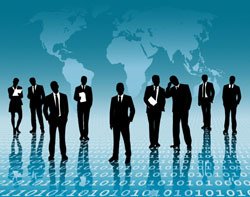 IT and operations executives are facing unparalleled rates of change. Cloud is threatening to erode traditional datacentre boundaries. Likewise, consumerisation and the rise of the empowered employee are threatening to erode desktop and device boundaries. As a result, today's IT departments need to re-assess their strategies. This is not about incremental improvement, though.
This is about rebooting the strategy to meet dramatically altered business requirements.
To better understand what your peers are doing, Forrester analysed 2,033 client inquiries on IT and operations in 2010. The research found IT leaders are focused on three key areas. Leading the way, 38% of IT and operations professionals were interested in improving user experience with desktop transformation using new PC architectures and mobile devices, client virtualisation and unified communications. Close behind, 35% expressed interest in delivering cloud economics in the datacentre with converged infrastructure and infrastructure-as-a-service (IaaS). And a healthy 27% of IT professionals sought information about their IT operations through performance monitoring, automation and adopting IT infrastructure library (ITIL). If you're already implementing or planning for these reboot initiatives, congratulations - your business will be appreciative. If not, then re-assess your efforts. The business may proceed with or without you.
In 2010, IT professionals were challenged to support the social media and mobile technology demands of the empowered employee. To do so, I&O professionals plan to improve user experience through desktop transformation. Of the 772 inquiries Forrester received on desktop transformation, 78% focused on client virtualisation and unified communications. Here are prime examples of the types of inquiries that an IT director at a large financial services company asked us when seeking advice on improving user experience with desktop transformation to support employees:
"I would like to better understand client virtualisation: What are the benefits to IT and end users alike? How does it impact staffing ratios? What technologies and vendors should I consider?"
"I need advice on developing a strategy and road map for unified communications, enterprise collaboration and enterprise portal. Do I need individual strategies and road maps? Is there a framework available that describes these topics, especially how they relate to and differ from one another?"
What you need to know: Empowered employees rely on social and mobile technologies to get their jobs done, but they often act on their technology needs without involving the IT department or using traditional procurement methods. By 2020, the number of empowered employees will rise as younger, more tech-savvy workers comprise 45% of your business' workforce demographic. Needless to say, supporting employees is a challenge for I&O professionals, who now must keep up with workers' expectations and PC architectures, mobile devices and applications (eg, laptops, thin clients, tablets, enterprise-ready smartphones and mobile apps), while continuing to manage and secure corporate data across all devices, regardless of who owns the hardware.
What you should do about it: To support the mobile nature of empowered employees and the new types of PCs, mobile devices and applications required, IT professionals are turning to client virtualisation and unified communications (UC). Desktop and application virtualisation technologies enable "bring your own computer" (BYOC) programmes that allow employees to select and use the devices they want to get their jobs done in a secure fashion. To amplify employee productivity and collaboration, revisit UC priorities with an emphasis on unified messaging, presence, integration with collaboration software and integrating business telephone features on mobile devices. But before making technology decisions, use Forrester's Post methodology to determine employee needs, business objectives and strategy.
As the public cloud matures, IT professionals are focusing efforts on building internal or private cloud environments to achieve cloud economics in their datacentres today. However, Forrester believes most IT organisations lack the maturity to succeed at private cloud. Of the 716 inquiries Forrester received on delivering cloud economics in the datacentre, 83% focused on converged infrastructure and infrastructure-as-a-service (IaaS). For example, a director of storage for a mobile carrier asked Forrester the following question when developing strategy to deliver cloud economics in the datacentre:
"I'm evaluating converged server, storage and network infrastructure solutions like HP's Blade matrix, Cisco's Unified Communications System and IBM's CloudBurst. With that in mind: Who are the target customers for converged infrastructure solutions? How do these solutions enable a private cloud? And how will these solutions evolve over the next three years?"
What you need to know: The speed to market, cost savings, on-demand capacity and disaster recovery benefits of cloud computing are not up for debate - they're real. But when it comes to how cloud should be consumed, public or private, there's a clear split in preferences. Informal buyers, typically developers and tech-savvy businesspeople, favour the public cloud to meet compute-intensive or short-term needs. Formal buyers, the IT and infrastructure professionals who manage their enterprise's datacentre infrastructure, prefer the private cloud. They're building private cloud solutions based on virtualisation, automation and converged infrastructure that is preconfigured to operate as a cloud-like environment.
However, Forrester believes that only 5% of IT organisations have enough virtualisation, standardisation, automation and self-service maturity to pull off private cloud. Nevertheless, in 2011, we expect IT and infrastructure teams to start building them regardless. These efforts will most likely fail, but through this failure will come valuable experience and knowledge about what it really takes to create and operate a cloud environment.
What you should do about it: Develop a portfolio that includes public and private cloud resources. Select two to three public cloud providers that you've thoroughly vetted, along with some standard ground rules on appropriate use cases and security restrictions. In the short term, this allows you to empower your informal buyers taking advantage of the public cloud, while addressing legitimate security, data protection, disaster recovery, recoverability and compliance risks. Over the medium and long term, continue to build out your private cloud by improving virtualisation, standardisation, automation and self-service maturity. Forrester's market overview of private cloud solutions evaluates the leading vendors and their offerings that you should consider. Into the future, I&O professionals can direct their users toward the appropriate solution, whether it be public, private cloud, or a dedicated infrastructure.
This is an extract from Forrester's report Rebooting Your IT Infrastructure And Operations In 2011 (May 2011) by Forrester principal analyst and research director Doug Washburn, who serves and contributes to the Forrester blog for IT Infrastructure & Operations Professionals.
Email Alerts
Register now to receive ComputerWeekly.com IT-related news, guides and more, delivered to your inbox.
By submitting your personal information, you agree to receive emails regarding relevant products and special offers from TechTarget and its partners. You also agree that your personal information may be transferred and processed in the United States, and that you have read and agree to the
Terms of Use
and the
Privacy Policy
.
This was first published in July 2011