US security agency's CIO fails to deliver integrated IT
Two government reports have shed new light on a dilemma: If US Department of Homeland Security (DHS) chief information officer...
Two government reports have shed new light on a dilemma: If US Department of Homeland Security (DHS) chief information officer Steven Cooper cannot wrestle the agency's sprawling bureaucracy into submission, can any IT manager be expected to help fix the nation's problems with terrorism information sharing?

Download this free guide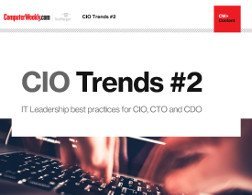 Your exclusive guide to CIO Trends #2
Access the collection of our most popular articles for IT leaders to help you get prepare for post-Brexit world, make use of "bimodal" IT strategy and blockchain technology.
By submitting your personal information, you agree that TechTarget and its partners may contact you regarding relevant content, products and special offers.
You also agree that your personal information may be transferred and processed in the United States, and that you have read and agree to the Terms of Use and the Privacy Policy.

In July, the DHS inspector-general issued a report concluding that Cooper did not have the political clout needed to develop an enterprise architecture integrating the IT systems at the 22 agencies within the DHS.
"[Cooper] is not a member of the senior management team with authority to strategically manage department-wide technology assets and programmes," the inspector-general's report said. It added that there is no formal reporting relationship between Cooper and the CIOs of major DHS components.
In another report submitted to Congress on this month, the Government Accountability Office (GAO) found that the DHS "does not yet have the necessary architectural blueprint to effectively guide and constrain its ongoing business transformation efforts and the hundreds of millions of dollars that it is investing in supporting information technology assets".
According to the GAO, the current version of the DHS' IT blueprint "is missing most of the content necessary to be considered a well-defined architecture". The GAO described it as "the result of an amalgamation of the existing architectures that several of DHS' predecessor agencies already had".
In a written response to the inspector-general's report, DHS deputy secretary James Loy disagreed that Cooper should be part of the senior executive team reporting directly to him. The CIO is "already an integral member at each level of the IT investment review process", Loy wrote.
The DHS acknowledged the problems with its enterprise architecture in a response to the GAO report. But the agency added that the GAO had measured its progress against "unrealistic" expectations about how comprehensive the first version of the architecture would be.
The DHS' IT budget for 2004 was about $4bn (£2.4bn) - the third largest IT budget in the federal government. And in the year since the agency was established, its CIO has led several initiatives to boost connectivity among the department's 22 legacy agencies, including linking e-mail systems and providing access to a shared online intranet portal.
But the larger tasks of identifying department-wide IT assets and creating a consolidated and secure IT infrastructure have yet to be accomplished, according to the inspector-general's report.
Sateesh Lele, a former CIO at General Motors' European operations and now chairman of IT services firm Global Data Systems, said cultural change from the top down throughout the federal government is desperately needed.
"In my CIO career, I have seen innumerable examples of this organisational malaise rampant in extremely large organisations, and I have also seen some tough actions from the top which have fixed the problem," he said. "This is not an IT problem. It is a cultural change problem."
But there are real technical issues that make it impossible for any CIO, regardless of experience, to succeed in fixing the homeland security and intelligence community information-sharing problems, said Alan Canton, president of software developer Adams-Blake.
"The infrastructure is broken," said Canton. "What is needed is not a CIO who can manage a bad system, but one who has the experience of building a new one quickly."
Roger Cressey, a former counter-terrorism director on the National Security Council, said the current CIO status and organisation at the DHS "is a recipe for failure".
Regardless of who wins the presidential election in November, there are significant structural changes that must take place at the DHS next year if the information-sharing problems are to be fixed, he said. It would be impossible for one person to manage full authority over both the intelligence and homeland security missions, and therefore, Cressey said, "we shouldn't try".
Dan Verton writes for Computerworld
Ex-Microsoft COO: Overhaul means crushing intelligence 'fiefdoms'
Read more on IT for government and public sector