Thought for the day: Wage a world war on spam
Spam legislation should be released on a global scale if it is to be successful, Alyn Hockey believes.

Spam legislation should be released on a global scale if it is to be successful, Alyn Hockey believes.


The recent "spam summit" held in the Houses of Parliament is evidence that ministers and MPs are recognising the threat spam poses to e-business.

Although legislation must be enforced, we cannot simply ban all unsolicited e-mail. Legislation in the UK is unlikely to affect spammers in the US or the Far East, so governments around the world will have to work together to make an impact.

The volume of spam entering a network can be significantly reduced by blocking known offenders, but when hundreds of thousands of spam e-mails are generated every week, it is difficult to keep up.

Other tools, such as verifying that the sender is "real" can help in separating spam from legitimate e-mail. More sophisticated tools learn the style of spam messages and can filter out e-mails containing topics such as "diet", "Viagra" or "loans".

Even with appropriate legislation and anti-spam technology, there is a large security hole made by the end-user. Many users do not understand the implications of spam or the best way to prevent its proliferation, such as not opening the e-mail.

There is also the common belief that spam is a problem for the IT department. Organisations must educate their employees and raise awareness of their role in the fight against spam.

It is critical to establish guidelines for subscribing to e-mail newsletters and websites that require an e-mail address. Policies are also needed to specify how employees should handle unsolicited e-mails.

If governments, organisations and end-users all work together, it should be possible to put a ceiling on the growth of spam and even start reducing it.

However, it is important to realise that spam is only one threat. The worry is that spammers will find another way of exploiting e-mail by the time spam is addressed.



Download this free guide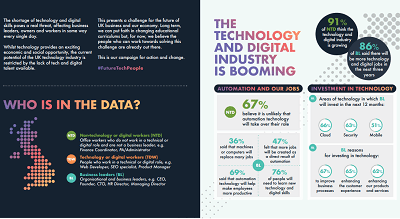 Infographic: Future-proofing UK technology
The shortage of technology and digital skills poses a real threat, affecting business leaders, owners and workers in some way every single day. Whilst technology provides an exciting economic and social opportunity, the current potential of the UK technology industry is restricted by the lack of tech and digital talent available. This presents a challenge for the future of UK business and our economy. Long term, we can put faith in changing educational curriculum but, for now, we believe the people who can work towards solving this challenge are already out there.
By submitting your personal information, you agree that TechTarget and its partners may contact you regarding relevant content, products and special offers.
You also agree that your personal information may be transferred and processed in the United States, and that you have read and agree to the Terms of Use and the Privacy Policy.
What do you think?
Should responsibility for spam lie with government or the end user? Tell us in an e-mail >> ComputerWeekly.com reserves the right to edit and publish answers on the website. Please state if your answer is not for publication.

Alyn Hockey is director of research at Clearswift