Thought for the day: Jurassic Park - the IT director's cut
The lumbering dinosaurs of the IT industry are slow to recognise opportunity. The hope is that the more enterprising ones might...

The lumbering dinosaurs of the IT industry are slow to recognise opportunity. The hope is that the more enterprising ones might get to mate before they become extinct, believes Simon Moores.
I finally declined the United Nation's invitation to share my experience of e-government with the people of the Republic of Yemen. The Foreign Office advised me that a visit would be unwise unless absolutely necessary and so I asked the UN if they could offer me any personal security guarantees. They replied.

Download this free guide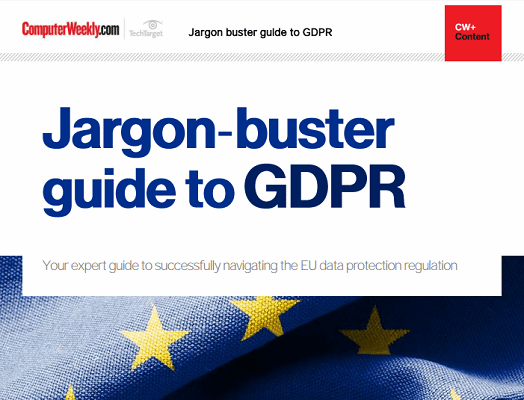 Jargon-buster guide to GDPR
The 10 most important things you need to know about GDPR, and a jargon-buster explanation for some of the key terminology.
By submitting your personal information, you agree that TechTarget and its partners may contact you regarding relevant content, products and special offers.
You also agree that your personal information may be transferred and processed in the United States, and that you have read and agree to the Terms of Use and the Privacy Policy.
"The United Nations accepts no responsibility for the death, illness or injury of any consultant or participant in an advisory meeting which is not attributable to the performance of services on behalf of the United Nations."
I took that as a "no". The Yemen may have to wait a little longer for e-government but somehow, like much of the UK, I think its people will hardly notice.
Freed then, from the prospect of a flight to a destination that British Airways has never heard of, I turned my attention to wondering about the future of the two technology companies you won't find playing football in the school playground. The first of these is Unisys, and being a smaller player among giants might not be such a bad thing in such hard times.
Under chief executive officer Larry Weinbach's leadership, Unisys has cleverly escaped falling into the same trap as its contemporaries - Amdahl, NCR, Data General and a longer list of similar businesses - which couldn't easily make the leap between 20th and 21st century IT market economics.
The end result of which is that Unisys is looking healthy, profitable and quite ready to play the agility card against its much bigger rivals as they thunder around the Jurassic Park that is today's IT industry.
Whether Unisys will continue its struggle as an independent label hardware supplier forever or find its destiny in pure-play services is a question I can't easily answer.
Managed services of every kind now reflect an important and growing part of its revenues and the company is now able to exploit the flexibility of its ES7000 Windows mainframe, which avoids the lock-in that businesses might experience with rivals IBM and Hewlett-Packard.
I rather think, however, that the secret romance between Dell and Unisys will continue to blossom. There's a great deal of potential synergy between the two companies which, one day, might lead to a closer relationship that avoids the violent mating struggle we witnessed between HP and Compaq..
Then there's the marriage of convenience between Novell and Linux vendor SuSE.
Both SuSE and Red Hat play well in the enterprise server space but Novell's decision to become fully penguin-friendly appears to answer the cash-strapped SuSE's prayers and may also give the waning Netware company a new lease of life, as it switches its attention to the open-source environment.
Ultimately, Microsoft may benefit indirectly, as this move may well force a messy head-to-head confrontation in the server space between Red Hat and SuSE.
Enterprise Linux customers should regard the Novell acquisition as an opportunity for them to consider an alternative to Red Hat, which is reported to have imposed restrictive licensing pressures with its own distribution of Linux.
The downside for Microsoft is that this will tend to make Linux a more competitive and attractive platform, offering a viable migration path for Netware survivors while simultaneously boosting the appeal and credibility of the Linux platform. The question I have to ask is why it took Novell so long, but then being slow is in the company's best traditions.

What do you think?
Is the IT industry slow to evolve? Tell us in an e-mail >> ComputerWeekly.com reserves the right to edit and publish answers on the website. Please state if your answer is not for publication.
Setting the world to rights with the collected thoughts and opinions of leading industry analyst Dr Simon Moores of Zentelligence.
Acting globally, Zentelligence (Research) advises governments, suppliers, business and the media on the evolution, application and delivery of leading-edge technologies and specialises in the areas of eGovernment and information security.
For further information on Zentelligence and its research, presentation and analyst services visit www.zentelligence.com