The people's operating system
Linux is an attractive proposition for a quarter of the world's population. Venetia Thompson finds out why
This Article Covers
RELATED TOPICS

Download this free guide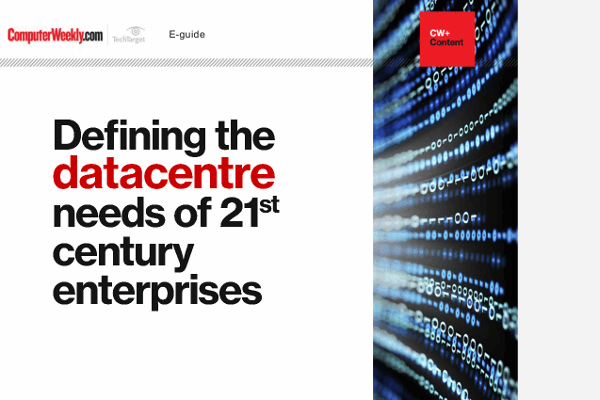 Defining the datacentre needs of 21st century enterprises
A collection of our most popular articles on datacentre management, including: Cloud vs. Colocation: Why both make sense for the enterprise right now; AWS at 10: How the cloud giant shook up enterprise IT and Life on the edge: The benefits of using micro datacenters
By submitting your personal information, you agree that TechTarget and its partners may contact you regarding relevant content, products and special offers.
You also agree that your personal information may be transferred and processed in the United States, and that you have read and agree to the Terms of Use and the Privacy Policy.

Linux is an attractive proposition for a quarter of the world's population. Venetia Thompson finds out why



Microsoft products are "expensive, arrogant and unstable", says Juliet Wu, the former general manager of Microsoft in China, in her book Against the Wind: Microsoft, IBM and Me. The book criticises Microsoft's high prices and its approach to piracy in China.

Wu's book has fuelled the growing debate about Linux in China. For a quarter of the world's population desktop computing is in its infancy, so one billion desktop PCs would represent a mighty revenue stream for Microsoft, whose Windows operating system would, by normal calculations, be on 90% of those desktops.

Wu is not the only person in China to consider an open source alternative to Microsoft: the Chinese government is actively pursuing a Linux strategy, the user community can see real benefit from it, and a whole generation of software start-ups can see the possibility of seizing global advantage in backing the platform.

"There is an opportunity for China to play a significant role in the Linux world," says Dan Kusnetzky, analyst at IDC. "I think it is a chance for [software start-ups] to add significant value. That certainly could allow China to take its place on the world stage as a software-producing country."

Yang Junh, who heads the Shanghai Linux group and runs his own network integration company, feels that China's corporate networks will eventually be dominated by Linux.

In January 2001, a Kwangchow newspaper, Yangcheng Evening News, said that the Chinese government had decided to reject Windows 2000 and embrace Linux. That decision, in effect, means that Microsoft could be shut out of a big part of the market in China.

John Hall, executive director of Linux International, a non-profit group which distributes information about the operating system, indicates that it is now Chinese government policy to use Linux across all government ministries and that about 25,000 people are familiar with the system.

"The fact that they don't have to tell some US company what they're doing is reason enough for them to use Linux," Hall says. Beijing is now quietly pursuing the Linux agenda.

The political aspect is crucial: it is a question of control. China cannot control Microsoft or its operating system, but it can control a Chinese-originated version of Linux. This makes the official adoption of Linux understandable and reasonable. The fact that Chinese people can participate in the development of the system and use Chinese characters merely increases its appeal.

As China constitutes a quarter of the world's population the advancement of Linux in China at the expense of Microsoft operating systems would be significant.

Wall Keller of GraphOn, a California-based provider of client tools, says, "As a country, you really have to be in control of your own destiny. It [China] wants to localise the product and its security issues."

GraphOn says China will embrace Linux because it can develop, market, sell and support Linux from within China. Microsoft's pricing and licensing policies and US control are all seen as disadvantages.

US foreign policy has also sharpened the Linux debate: the US/China stand-off over a downed spy plane in April 2001 led to a wave of anti-American feeling. Meanwhile, US president George Bush, publicly marked a foreign policy shift from seeing China as "strategic partner" to a "strategic competitor".

According to Chinese developers, the benefits of Linux are marked. Economically, Linux would make the cost of building an IT infrastructure much cheaper than if proprietary products were used.

Sun Yufang, chairman of a Chinese government-funded Linux distributor Red Flag, emphasises that China must look for its own software.

"China is still very poor. Without our own operating system, we are at the mercy of Microsoft. The Chinese obviously worry that they might be held captive to Microsoft's commercial priorities," says Yufang.

Alex Huang, regional director of Microsoft Greater China, responds to the Linux claim by saying, "Like the other Linux distributions, Red Flag Linux is one of our competitors, just like Sun or Oracle.

"We do not believe that there is a uniform position of the Chinese government in favour of Linux: this is proven by the success Windows 2000 has met within departments such as the Ministry of Railways, Ministry of Inspection, Beijing Public Security Bureau, Ningbo Digital Port, Shanghai Pudong Development Bank, China Telecom and China Unicom."

He adds that Microsoft respects the Chinese government's requirement to protect its national security. "We are committed to providing the Chinese authorities with guarantees that Microsoft software is safe and secure. We are working with the Chinese government to build a mutually beneficial thriving software industry," says Huang.

Subjects include delicate issues such as intellectual property rights and encryption. Intellectual property rights protection and reducing the piracy rate will be the most important way the government can foster the growth of the indigenous software industry and encourage more foreign investment in China.

Another key issue is language. Chinese software house Bluepoint spent five months developing a Chinese character Linux in 1999 and sold 330,000 copies in 2001.

The overwhelming advantage of Linux, particularly Chinese Linux, is that most people are not familiar with English and Bluepoint co-founder Yu Deng emphasises that the company has localised the Linux kernel and applications package to display, input and print Chinese characters.

Also, China is a major manufacturer of electronic products and Linux could be a key factor. The next generation of consumer electronics will have embedded operating systems, and Linux can function as an embedded OS. This huge manufacturing base, with its many export-oriented factories, could soon yield a significant take-up of open source.

But there is a danger that a Chinese government-backed Linux could actually diverge from the open source kernel maintained by Western developers. Rick Lehrbaum of Linuxdevices.com believes that China's role in the Linux world can be profound, provided it plays by the rules.

"The Chinese developers need to play it right to be a real member of the open source community. Having control of the operating system and its source, being legally able to make changes and recompile and use it - makes it much easier to support yourself," says Lehrbaum.

A recent article in Hong Kong's South China Morning Post claimed that China's developers were unwilling to give back to the Linux community the changes they had made.

Bluepoint responded to this allegation by stating, "We distribute all the changes we make. Anybody can download the source code on our Web site or buy CD-Roms. Whoever claimed that the Chinese Linux distributors are violating GPL terms is inaccurate."

Finally, Lehrbaum feels Chinese users will take to Linux more easily because it can be tailored to meet their needs.

"I suspect they would prefer an internationally-supported, rather than US Microsoft-only operating system. Just think of Linux as 'the peoples' operating system'," he says.

How Bluepoint's Linux got started
Bluepoint is the brainchild of Yu Deng, Miaoshen Laio and Ling Li who are known in the Chinese computer world as Devin, Samuel and Hahalee.

1997

Deng worked with Laio on Linux
1998

Co-founded the openunix.org Network Studio which registered more than 3,000 users in one year


Developed CXwin 0.5, the Chinese Windows environment for Linux


Decided to develop a real Linux operating system to support Chinese from the kernel level and called it Bluepoint
Early 1999

Li became a certified program engineer before leaving college and joined the development team
July 1999

September 1999

To expand the business, they founded Shenzhen Bluepoint Linux Software. The three founders are recognised authorities in the Linux/Unix community and the company is well placed to become one of the dominant players in the Asian Linux market.


Top 10 Linux benefits for China
Linux has many significant advantages for China. These are:

Since 1992, Linux has made a name for itself with 20 million users globally. It has non-commercial roots with the aim that its system should be free, open and public. Chinese business computing is in its early stages and can still choose a path other than Windows. "There is a mass market out there that still isn't computerised," says Avneesh Saxena, an analyst at IDC


It has no rumoured back doors that let people in to disable the systems. "With Windows, we have no way of knowing what is inside," says Sun Yufang, researcher at the Chinese academy of science


The high cost of Windows makes more businesses willing to use Linux


The Chinese government likes working with multinationals, but not with Microsoft


For policy-makers, Linux offers more affordability and security


Politics is also a factor. "Some Chinese people think that the US is not very friendly in China," says Danny Zheng, founder of the Beijing user group


Economic development - China will never own a big slice of Windows software but could play a bigger role with Linux and this is an opportunity for it to catch up


National pride - it gives China an equal footing in the software industry


Source code availability - users can modify, but more importantly, use the source code to support themselves. This latter point is especially significant due to language and timezone barriers as well as visibility


Can be distributed with very little overhead.


Linux starts long-haul
Linux will wear away the dominant market share Microsoft has enjoyed in Greater China by 2004, according to a study by Strategic Research reported in Hong Kong's South China Morning Post in July 2001.

A combination of economics and negative feelings about Microsoft will carve a niche market with 9% of corporate users. The report states that fewer than 1% of the 289 chief information officers surveyed in Hong Kong, Taiwan and mainland China presently use Linux. China, with a projected adoption rate by businesses of just under 3%, lags behind Taiwan's 6% and Hong Kong's 7%.

Chief analyst Rob O'Neill says China is the only place in the region where Linux seems to be pushing Microsoft back. In companies with more than 500 PCs, 9% planned to use Linux in three years.