Swindon trials online classroom
Unlimited 24-hour resources and no skiving could be the future of UK education, writes Daniel Thomas.
Unlimited 24-hour resources and no skiving could be the future of UK education, writes Daniel Thomas.
An interactive education trial in Swindon that allows pupils, teachers, parents and organisations to share and exchange information using broadband Internet connections, could be a model for the whole of the UK, according to organiser ntl.

Download this free guide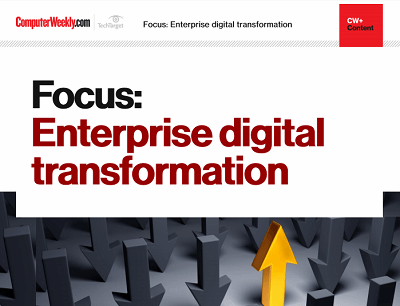 Are you digital to the transformation?
Digital transformation - the buzzword that we can't get away from. Enterprises need to accelerate their digital transformation journeys to avoid being left behind in an increasingly digital world. It's not an easy feat, but one that can be costly to get wrong. Join us as Computer Weekly takes a look at how businesses can stay on track through collaboration, innovation, and listening to user needs.
By submitting your personal information, you agree that TechTarget and its partners may contact you regarding relevant content, products and special offers.
You also agree that your personal information may be transferred and processed in the United States, and that you have read and agree to the Terms of Use and the Privacy Policy.
The Swindon Community Intranet Project, which includes 10 schools, the local authority and more than 1,000 homes, exploits broadband Internet connections in schools and PCs and Internet televisions in homes.
Pupils and parents have access to the national curriculum syllabus and open access to external learning facilities such as local libraries. In addition, pupils can contact a teacher who is on call 24 hours a day to answer questions via e-mail within minutes.
Communications provider ntl says the project could pave the way for every school teacher, pupil and parent to be connected in a "virtual online classroom" by 2005, as part of Tony Blair's commitment to interactive online education and distance learning.
The company says this online classroom will include tutoring via videoconferencing, video on demand and access to educational TV broadcasts and curricular content over the Internet, 24 hours a day.
Pupils from across the UK could eventually have simultaneous, high-speed access to a wide range of online resources, and even take advantage of online language lessons with teachers from around the world. Students will also be able to work on multimedia projects with local organisations. And parents can check on school work, reports and exam results online from home.
As well as allowing schools to extend teaching beyond the classroom, interactive online education should also achieve significant savings for schools in terms of time, equipment and economies of scale.
In order to achieve its nationwide online classroom vision by 2005, ntl needs to provide cost-effective broadband connectivity to schools across the whole country. It aims to do this through fibre, cable, DSL or wireless connections and its TV Internet technology, extending the benefits to households without PCs.
"The infrastructure to create a truly national virtual classroom is already in place," says Barclay Knapp, president and chief executive officer of ntl.
"Our broadband strategy will take us past almost every home and school in the UK and rapid uptake of digital television and TV Internet technology will soon give a vast majority of the public a convenient and inexpensive route to the Internet. We are already two thirds of the way towards achieving our ambition," adds Knapp.
Project benefits
Pupils have 24-hour access to a teacher for any homework difficulties
Parents and pupils can view the syllabus to see future areas of study
Pupils can use resources from local facilities such as libraries and museums
Saves schools money, time and equipment.

Project aims
Pupils across the UK have simultaneous, high-speed access to education resources
Specialist on-screen language lessons with teachers from around the world
Parents can check school work, reports and exam results from home via the Internet
In future it could link to a nationwide "virtual online classroom".
Read more on Operating systems software