Handhelds get more bells and whistles
Analysts have predicted massive growth in handheld computing use - despite turmoil among suppliers and slow corporate uptake,...
Analysts have predicted massive growth in handheld computing use - despite turmoil among suppliers and slow corporate uptake, writes Daniel Thomas
Research group IDC has predicted that the "smart" handheld device market will grow from 12.9 million units in 2000 to 63.4 million units in 2004. Many of these will be bought by individuals for personal use, but they will also increasingly use them unofficially in the workplace.

Download this free guide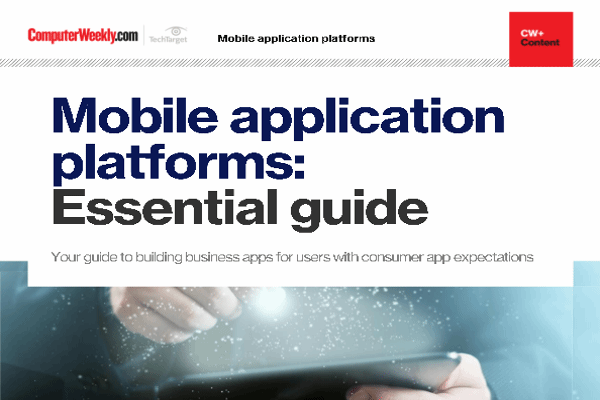 Building business apps for users with consumer app expectations
One of the mantras of modern enterprise application development is that business applications should be as easy to use as mass market consumer applications. In this guide, Computer Weekly examines the issues around mobile applications and the platforms emerging to help developers.
By submitting your personal information, you agree that TechTarget and its partners may contact you regarding relevant content, products and special offers.
You also agree that your personal information may be transferred and processed in the United States, and that you have read and agree to the Terms of Use and the Privacy Policy.
Surveys by handheld company Palm found that 80% of customers synchronise their devices at work. As a result, suppliers are incorporating more business functionality into their devices and new models are proliferating.
Psion this week released its Workabout RFID (radio frequency identification) industrial handheld device. The device is designed to enable the identification, tracking and management of electronically tagged goods in the manufacturing, warehousing and logistics sectors.
Psion said Workabout RFID would allow users to process, transfer and retrieve real-time data between handhelds and RFID tags or smartlabels. This would enhance end-to-end control of industrial processes and allow inventory information to be delivered to a broader range of mobile workers.
As announced in last week's Computer Weekly, Palm has also launched the m500 and m505, the first devices to support the Palm 4.0 operating system.
The Palm 4.0 OS includes native USB support, for easier set-up, enhanced built-in security with auto lock, record masking and password hints. It can also synchronise with a PC four to five times faster than its predecessor, the m100.
Improved telephony support has also been added. Users will be able to dial numbers on mobile phones direct from a Palm address book via infrared or cable.
Unlike previous versions of the Palm OS, the new version includes backwards compatibility with the 3.0 release.
A Secure Digital expansion slot and universal connector means the Palm handheld can be turned into a digital camera or Bluetooth module by inserting a Secure Digital or MultiMedia card.
Meanwhile, Palm licensee Handspring has released Visor Edge, an ultra-thin device based on Palm OS 3.5. Visor Edge includes a small detachable Springboard expansion slot, giving users the option to add snap-on hardware and software applications. It also lets users access contact information more rapidly using the application buttons, rather than the stylus or Graffiti text input.
Read more on Business applications