Energy management systems – Essential Guide
Enterprise energy management systems can help to lower an enterprise's carbon footprint and make the data centre more environmentally friendly, with the ultimate aim to reduce operational costs through more efficient use of IT resources.
Enterprise energy management systems can help to lower an enterprise's carbon footprint and make the data centre more environmentally friendly, with the ultimate aim to reduce operational costs through more efficient use of IT resources.

Download this free guide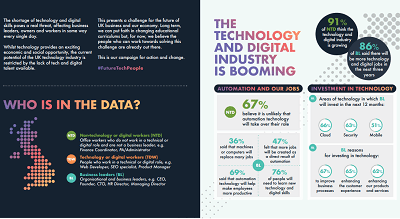 Infographic: Future-proofing UK technology
The shortage of technology and digital skills poses a real threat, affecting business leaders, owners and workers in some way every single day. Whilst technology provides an exciting economic and social opportunity, the current potential of the UK technology industry is restricted by the lack of tech and digital talent available. This presents a challenge for the future of UK business and our economy. Long term, we can put faith in changing educational curriculum but, for now, we believe the people who can work towards solving this challenge are already out there.
By submitting your personal information, you agree that TechTarget and its partners may contact you regarding relevant content, products and special offers.
You also agree that your personal information may be transferred and processed in the United States, and that you have read and agree to the Terms of Use and the Privacy Policy.
What is the purpose of an energy management system?
Building energy management systems could involve implementing a specialised energy management control system, or energy management software package, with the aim being to reduce the carbon footprint of the business and lower IT costs through more efficient uses of power.
Energy management systems are an extension of traditional systems management tools such as CA Unicenter, IBM Tivoli or HP Openview.
However, the focus of energy management systems is on energy efficiency, rather than the broader discipline of systems management, which often focuses on application and network monitoring and performance.
What are the core components of energy management?
Enterprise energy management involves the whole of the business, and can touch any of its systems, from the data centre to the front end PCs.
Manufacturers of processors, PCs, laptops and peripherals have all been working to reduce their energy footprint. Most now offer low-energy, high-performance, business-grade PCs incorporating power-saving features.
Energy management can include powering down certain systems to ensure they save on power; or sharing resources through virtualisation or grid technology.
It can also involve monitoring and management of power usage of servers and mainframes.
At a more granular level, energy management can involve the way individual components are powered, alternative cooling technologies, or server and storage systems that draw less power or create less heat.
How can energy management systems benefit the data centre?
Energy efficient, or green data centres will, first of all, benefit the environment, because they draw less power and require less energy to be produced.
As a result, data centre components are able to run more efficiently and require less cooling, and this in turn draws less power overall.
From an IT director's perspective, energy efficient data centres can lead to lower cost data centres, as fuel bills fall and machines fail less frequently, and even take up less space.
How can energy management systems benefit PC users?
The cost reductions from better energy management are worth the effort according to experts. For example, global law firm Freshfields Bruckhaus Deringer expects to save £85,000 a year with a PC power management tool from IT Energy to cut power costs on its 5,600 PCs by 34%.
In addition to saving nearly a megawatt of energy per year, the project will reduce company-wide CO2 equivalent emissions by 4%.
How are software vendors helping to provide energy management tools?
Leading enterprise software vendors such as IBM are offering tools to help companies to lower their carbon footprints.
In the case of IBM, it has designed software to help businesses use its Tivoli, Lotus and WebSphere product families more energy efficiently.
The company's Software for a Greener World initiative includes software designed to help businesses address the growing need to maximise energy efficiency and reduce costs associated with power and cooling.
Tivoli Monitoring software is designed to provide energy management information that enables the optimisation of data centre and facility assets.
Other products covered by the initiative include WebSphere Virtual Enterprise, which provides application infrastructure virtualisation for lowering operational and energy costs.
How popular are energy management systems?
A survey from 2008 found that 65% of UK firms have no policy in place to improve their energy efficiency, although half of these businesses did intend to adopt an energy management system within 12 months.
However, a number of large corporates and service providers have now invested in green data centres and procedures, and the picture has improved on 12 months ago, as firms start to be persuaded of the benefits of going green.