Case Study: The Speech Recognition Company
Voice recognition software was utilised by one borough council to avoid the long-term expense of employing secretarial staff
Voice recognition software was utilised by one borough council to avoid the long-term expense of employing secretarial staff
A borough council is an ideal benchmark for the evaluation of many office efficiency solutions. The basic equation remains the same; employed personnel = continuous expense. Speech recognition software was identified by Runnymede Borough Council as a way of avoiding the unnecessary long term expense of hiring secretarial staff for council officers who can't type.

Download this free guide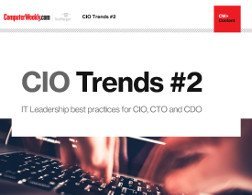 Your exclusive guide to CIO Trends #2
Access the collection of our most popular articles for IT leaders to help you get prepare for post-Brexit world, make use of "bimodal" IT strategy and blockchain technology.
By submitting your personal information, you agree that TechTarget and its partners may contact you regarding relevant content, products and special offers.
You also agree that your personal information may be transferred and processed in the United States, and that you have read and agree to the Terms of Use and the Privacy Policy.

The council had kept an eye on the technology for some time. The advent of continuous speech recognition, early in 1998, was the trigger to actively evaluate the technology. Sensibly, the council chose to trial the technology with two key objectives - to establish if speech recognition could indeed improve the efficiency of their staff and, if so, who would benefit the most. Although the cost of speech recognition software has fallen as fast as the technology has become more effective, Runnymede Council was able to use its trial to gauge the true cost of speech technology, including training and equipment costs. Underlying costs proved to be considerably higher than thought. However, compared with secretarial salaries, the mostly one-off cost of implementing speech technology looked attractive in the long term. In their case, the trial was successful and Runnymede Council has gained enough trust in the technology to roll speech recognition out to carefully selected users in its organisation in the near future. If Runnymede Council can make speech technology pay, so can the hundreds of others around the country. Background Nigel Watson, information systems manager, together with other senior executives, had been keeping an eye on the company's technology for some time, and felt, in early 1998, that the time had come to formally evaluate it. They decided to look for a system that would investigate whether speech recognition software would enable managerial staff to work more effectively and to identify the type of managerial staff who could benefit most. It was with this aim in mind that he contacted The Speech Recognition Company, specialists in providing speech products and services for such projects. The Speech Recognition Company provided advice on the best way to meet these objectives as well as providing training and support services. Runnymede provided six senior managerial staff with IBM ViaVoice 98 Executive speech recognition software and hand-held microphones to evaluate. The company also assembled an additional vocabulary that contained many of the terms and words that were specific to Runnymede Council's requirements. Results Commenting on the results of the evaluation, Watson says: "We deliberately chose a variety of users from different departments for the evaluation. We found that those who benefited most were those who could not touch-type but were PC literate and had to produce typed work. If secretarial assistance was available, the users tended to restrict use of the system to times when the typing support was over-stretched or outside hours of normal secretarial support. "It is very important with this technology that users get a good first impression of the software. It is essential to have the system properly set up, on sufficiently powerful computers, and that users are trained how to use the software. In some cases, we found that poor first impressions lead to users not seeing the benefits sufficiently fast enough and giving up. My advice to others considering this technology is not to skimp on the set up and training costs - they make the difference between a project succeeding and failing." Properly integrated for the right type of user, Runnymede found that speech recognition technology provided significant improvements in managerial effectiveness and reduced the typing element of those managers' support staff. This was of obvious benefit to both parties. It is likely to cost approximately £700-£900 per user for the software, training, microphone and telephone support, and vocabulary building. Also: "Do not think of trailing just one system with one user," Watson counsels. According to Anthony Buxton, director of The Speech Recognition Company, "In order to get any meaningful results as to whether the system has wider applications, six systems is the minimum number worthwhile. Total project cost is therefore likely to cost from £5,000-£10,000. This is in addition to any costs involved in upgrading the computers to the necessary specification. The future Following the completion of the pilot and building on the lessons learned from this first use of speech recognition, Runnymede Council will look to roll out speech technology to one or two larger work areas, covering 15-20 users as the next stage of the evaluation. For chosen users, they are also considering evaluating new technology that allows hand-held digital recorders to be automatically transcribed by speech recognition software. "Used in the right circumstances this technology can make users more efficient, save secretarial time and produce a net financial benefit to the Council. There is no doubt in my mind that it could benefit many government organisations," Watson concludes. Compiled by Geoff Marshall
Read more on IT for small and medium-sized enterprises (SME)