Case Study: Actinic Catalog 3
E-commerce branding: working together and not competing – a new business model
E-commerce branding: working together and not competing – a new business model
All the marketing wisdom surrounding branding seems to have been flouted on the Funstore site. When you log on, all you see is the Hamleys' brand name. In fact, it is the 'In association with Hamleys' which gives you the clue that Hamleys' is not the only force behind the site. And it's not. Hasbro, a worldwide leader in the design, manufacture and marketing of toys, games, interactive software, puzzles and infant products, has worked closely with Hamleys' to create the site, although you'll be hard pressed to find the Hasbro name on the site.

Download this free guide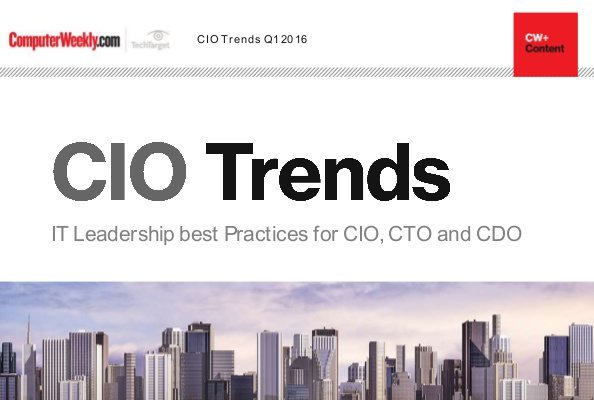 Your exclusive guide to CIO trends
A collection of our most popular articles for IT leaders from the first few months of 2016, including: - Corporate giants recruit digitally-minded outsiders to drive transformation - Analytics platforms to drive strategy in 2016 - Next generation: The changing role of IT leaders.
By submitting your personal information, you agree that TechTarget and its partners may contact you regarding relevant content, products and special offers.
You also agree that your personal information may be transferred and processed in the United States, and that you have read and agree to the Terms of Use and the Privacy Policy.

Naturally, most of Hasbro's business goes through the traditional retail channel, so it was essential that its e-commerce initiative was closely partnered with a retailer. Funstore is attractively designed and simple to use. It offers a range of Hasbro products across seven 'floors' accessed by means of a "lift bar" icon. Hamleys' and Hasbro are bucking marketing tradition by embarking on this partnership. They are creating a new business model for mutual benefit. They are also taking a calculated set of risks. At the Funstore site, the Hamleys' brand reputation lies in the hands of its supplier to fulfil the orders placed. If Hasbro mess up, then the customer blames Hamleys'. Also, what image comes up when you think of Hamleys'? Probably a picture of the big, famous Regent Street store, carrying a huge, diverse range of stock. What will the casual surfer make of finding his options limited to mainly Hasbro toys? Alex Reeve, Internet manager at Hasbro, does not see a problem. "This whole project is about forging new partnerships with retailers," he says. "I know that there are issues to be addressed for the future, like how do we extend the range, what do we do about other suppliers' products? But we wanted to launch this initiative without letting problems of that nature stop us from testing the market. And based on the success we've had, we will be developing the site and extending the range during this year." Hasbro has already started to address the issue of online shoppers only having access to a limited stock of toys by including 20 products from outside the Hasbro stable. This is only logical because they are a selection of toys packaged under Hamleys' own brand name (e.g. Hamleys' West End Barbie, made by Mattel). The story behind this innovative arrangement began when Hasbro first investigated alternative strategies for entering e-commerce and quickly realised that setting up shop under its own name was not an option. "We didn't entertain it," says Alex. "We wouldn't want to unsettle our retailers by selling direct to consumers. In any case, it is really the retailer who has the recognisable brand name that will draw traffic to the site. So we decided to find ways of helping our retail partners come online. We are happy to talk to other retailers about similar projects." It just so happened that Hamleys' was the retail partner ready to experiment with the proposition. As Chris Ash, Hamleys' CEO, explains: "This is a trial - it's new territory for us. We decided to do it as a joint venture with Hasbro because we are of a common mind about moving into Internet trade. There have been no problems working together and our brand reputation has not been compromised in any way." Although Hasbro handles the fulfilment for orders coming through the UK store, it is Hamleys' who give the marketing advantage through the use of its internationally known brand name. "This arrangement makes a lot of sense," says Alex. "There is an investment from both sides, so we're both project owners. It's of mutual benefit to both parties." "Hasbro asked for a fully working site within a very short timeframe to catch the Christmas market," says Chris Barling, managing director at Actinic. "We've been developing industrial-strength solutions since 1996 and as the technology is tried and tested, we were able to get the site up and running in only four weeks." As to marketing Funstore, Hasbro went for a very successful two pronged approach: search engine banners and local radio. It invested in over one million banner views with Lycos, and did a special charity sponsorship arrangement with Capital Radio. "On the run up to Christmas, Capital announced a Furby auction in support of their charity appeal," says Alex Reeve. "Listeners were directed to the Funstore address and the Capital website carried a link as well. This proved to be the most successful means of promotion so far, fuelled, I am sure, by the popularity of Furby toys which were sold out everywhere!" Because Actinic can track referrals to site, they have a great insight into who their customers are. "We think this is an excellent arrangement," says Chris. "A retailer can afford to be less cautious about assessing a site audience to see if they are the right profile to produce sales. Amazon has pioneered programmes like these and we've tried to package the technology for it so the next wave of marketers, who have less time and money to experiment, can implement leading edge approaches at a fraction of the cost and risk." For Funstore, Actinic used its security system that is approved by major high street banks and gives extra flexibility as well as military-strength protection against credit card fraud. Encrypted orders are routed through the site server into the retailer's PC and only decoded once there. "The system is arguably more secure than SSL because the data isn't stockpiled on a host server in clear text, which could be more vulnerable to hacking. The encryption is also 256-bits versus 40-bits," comments Barling. Will Hasbro extend the trial and launch other retail branded sites? "We're looking at all sorts of possibilities," says Alex Reeve. "I wouldn't rule anything out - the objective was not to try and establish the Amazon of the toy sites, but to forge a new business model based on trust, co-operation and synergy." Compiled by Rachel Hodgkins (c) Actinic 1999
Read more on IT risk management