Bars 'n' stripes
Bar-code scanning and labelling may not be iSeries/400 mainstream, but these processes - exciting as they are - can be invaluable...
This Article Covers
RELATED TOPICS

Download this free guide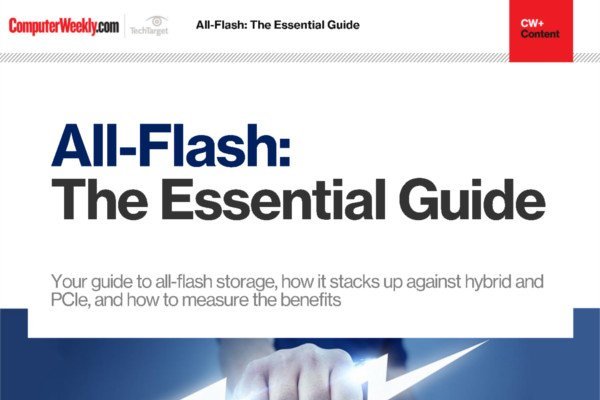 All-Flash: The Essential Guide
Access this guide to learn about all-flash storage, how it stacks up against hybrid and PCIe, and how to measure the benefits.
By submitting your personal information, you agree that TechTarget and its partners may contact you regarding relevant content, products and special offers.
You also agree that your personal information may be transferred and processed in the United States, and that you have read and agree to the Terms of Use and the Privacy Policy.

Bar-code scanning and labelling may not be iSeries/400 mainstream, but these processes - exciting as they are - can be invaluable in the supply chain.



Before users start looking at barcodes and labelling there is one crucial piece of technology they must bear in mind; the printer. The type of printer you use is of paramount importance when it comes to actually producing barcodes and labels. After all, this is what will actually produce the end product so it is imperative to choose the right one.

There are basically three types of printer on offer at the moment; traditional impact printers, laser printers and thermal printers, which are ideal for producing barcodes and labels. Simon Hodkin, senior IT specialist at IBM explained, 'Thermal printers are very significant in terms of labelling and barcodes because that is their primary market.' Designed specifically to combine speed and quality, thermal technology is perfectly suited to the specific needs of barcode and label printing.

IBM's flagship offering in this market is the 4400 printer, which is primarily aimed at the AS/400 and iSeries marketplace, and comes with both an optional cutter for labels and an optional barcode validator. Features such as this could be extremely important for businesses that rely on stick-on barcodes. The barcode validator is effectively the printer's quality assurance facility. If it doesn't like what it sees, for example if there is any problem with the barcode's print quality, then it will withdraw the paper back into the printer and can reprint it.

If you are looking for this type of barcode and labelling product then you should make sure that it is robust enough to cope with your business environment. Hodkin described the IBM offerings, 'These printers and barcode labellers can go into very challenging environments such as warehouses and factory floors.'

The same applies to the types of labels that you use. This is not necessarily rocket-science, after all, the label will basically be slapped on the side of a box. IBM, however, argues that its labels can cope with the some of the most adverse conditions. Hodkin said: 'The labels are weather-proofed and can even be stuck on boxes and palettes that have been out in the rain.'

Hardware, however, is only one side of the story. Users should also devote some thought to the type of software that they are going to use. The good news is that the AS/400 and its operating system have been built with an eye to a wide range of applications, including Barcode labelling. In this way, OS/400 natively supports 20 different barcode types. Admittedly, the average company is only likely to use one, with the most common ones being the consumer barcodes EAN-8, EAN-13 and CODE 3 of 9. These may sound suspiciously like secret messages between Cold War spies, but they are extremely important if you are planning to use your AS/400 or iSeries for barcode printing.

Just as important, particularly for UK users, is the fact that the machine is also capable of printing the Royal Mail postcode, RM4SCC. In all reality it is unlikely that your average UK AS/400 user will employ JPBC (Japan Postal Bar Code) but, just to be on the safe side, IBM offers that too. Given such variety, it is perhaps no surprise that users see IBM's flagship mid range server as ideal for barcode printing. Hodkin, who is currently seeing a lot of demand for barcode printing on the AS/400, said: 'If an AS/400 is running your business and it has all your data, you will want to print a product ID, for example, as a barcode.'

IBM uses a method known as Intelligent Printer Data Stream (IPDS) to produce a barcode. IPDS, which prints 20 different barcode types, allows users to print to most types of printer, either natively, or through a transform facility provided by OS/400. Experts at Big Blue say that IPDS lets users easily specify the data field that they want to print. An example of this would be printing a postcode as a barcode.

Users that don't want to write their own applications, or don't want to change their ERP application, can use software to print selected fields as barcodes after the program has run, but before any print has been induced. Typical software products designed for this include Advanced Print Utility and the new Inforprint Designer for iSeries product.

Of course, IBM is not the only supplier offering products for barcode labelling in the AS/400 and iSeries arena. The Formtastic Labels Module from Redhill based Quadrant Software, for example, lets users automatically generate labels by integrating the labelling process with their application program and existing database files. According to Quadrant, this means that users can turn their supplier, customer and prospect maintenance files into address labels for mailings.

For its part, IBM argues that it is in users' interests to print barcode data directly from the AS/400 or iSeries as opposed to downloading it via a print server or PC. Hodkin said: 'The industry recognises that data is safe and secure in one place and PCs are much less stable than the AS/400.' Whether you choose to print direct from your AS/400 or not, users should make sure that their barcode printing product is compatible with existing systems. This may sound obvious, but connectivity is of paramount importance when it comes to implementing any new system. It could also be worth choosing a barcode solution offering additional ways to enhance the actual barcodes, such as fonts and electronic forms.

Ultimately, it seems that businesses need to realise that their barcode solution is much more than just that. For this reason, you should pick a solution that offers output in other areas, such as fax, online viewing, archiving and web enabling. You will save yourself a lot of time if you use just one tool to perform all these functions.

So what does the future hold for barcode printing on the AS/400 and iSeries? Hodkin believes that the market for AS/400 barcode products is not declining, because more and more supply chain processes are being automated. Germany, in particular, appears to have a vibrant market for label printing on the AS/400. Ken Moir of AS/400 label printing specialist Zebra Technologies explained: 'The demand to run Zebra label printers off the AS/400 is greatest in Germany, which in some ways is not surprising given the large user base of AS/400, particularly within the auto industry.'

There is certainly a very strong case for taking the barcode option, especially during an era when time most definitely equals money, especially where e-commerce is concerned. The major suppliers are quick to remind users that barcode scanning; especially when compared to manual data input is much faster and error-free. Research from IBM found that for every 3 million characters entered by a human typist, you get 10,000 errors. In comparison, the barcode error rate is one every three million characters. If your business is based in the supply chain, this could be one boat that you just can't miss.


Well I never
Have you ever wondered what the little letters and numbers are on the bottom of a barcode? This is what is known in the trade as 'Human Readable Information' (HRI), and represents the product data held within the barcode, such as part numbers and price.


IBM'S 4400 Printer

Thermal printing in 4-,6- and 8-inch widths at up to 10 inches per second.



Print resolution up to 300dpi



Supports IPDS for Twinax and Ethernet



Die-cast aluminium base designed for tough industrial environments



Optional bar code validator scans while printing to ensure readability



Optional electronic media cutter
Read more on Data centre hardware