Amplify your voice
There are a host of hidden advantages in setting up or using a user group. Computer Weekly reports on how to magnify that user...
This Article Covers
RELATED TOPICS

Download this free guide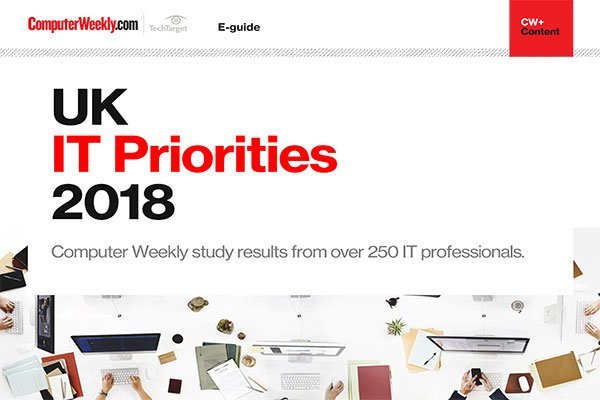 UK IT Priorities 2018 survey results
Download this e-guide to discover the results of our 2018 UK IT Priorities survey, where IT leaders shared with us what they are going to be investing in over the coming 12 months.

By submitting your personal information, you agree that TechTarget and its partners may contact you regarding relevant content, products and special offers.

You also agree that your personal information may be transferred and processed in the United States, and that you have read and agree to the Terms of Use and the Privacy Policy.

There are a host of hidden advantages in setting up or using a user group. Computer Weekly reports on how to magnify that user dialogue



There is a saying that there is safety in numbers - which presumably ex-plains the large number of user groups dedicated to one or other manufacturers' products. Such groups fall into a number of categories; there are single-product groups, official groups, independent groups and interest groups dedicated to specific areas of technology.

The product-specific groups are most relevant to internal IT managers because they can allow for some direct influence over the products to which the group is devoted. The make-up of such groups varies. John Hobson, guest services executive for the Surrey theme park Thorpe Park, was surprised to find himself in the majority when he joined the user group for customer relationship management systems specialist Swallow Information Systems, the Charter user group. He was expecting more techies than others but they weren't there. "It is genuinely the people who use it [Charter] rather than the IT staff," says Hobson.

User groups vary considerably and the benefits listed by the Hewlett-Packard Computer Users' Association (HPCUA) make a good starting point to find out what they are about. These include networking, the chance to tap into the knowledge base of the members, 10% to 25% discounts on training, 30% discounts on books and CD-Roms, free entry to the annual user conference, a programme of user days, publications, the chance to join a number of forums, a Web site and an annual survey presented to HP as formal feedback.

The HPCUA is at the larger end of the scale and could get even bigger in the light of last week's Compaq/ HP merger announcement. It has six full-time staff and believes itself to be the biggest user group outside the US, and its role is being built into the whole HP ethos.

Peter Bradley, HPCUA general manager and publisher of HP User magazine, says, "I suppose we situate ourselves in the total customer experience arena; our global survey is due to be incorporated into salary reviews for senior HP executives, making customer satisfaction and user group interaction part of their remuneration."

And when a company starts paying its staff depending on whether they please the user group, you may take it as read that both the company and employee will take the group's existence very seriously indeed.

Arguably, a user group, at least of the formalised, single-manufacturer variety, will survive or die on the involvement of the companies whose users they purport to
represent. David Cox, deputy managing director of Swallow Information Systems, has liaison with the Charter user group as part of his job and confirms that releases of the product have been influenced by feedback from the group. "We have to live and die by customer support, given our business," he says. But the dedication to producing a product that the customer wants - and in which the customer will continue to invest - is real enough. "We wanted a list of features customers would like and the user group was the natural way of doing it," says Cox.

Lotus is one organisation with a long history in the user group arena. Market manager for Lotus, Jim Moffatt, confirms that the user group concept is still regarded as indispensable by the company. "The feedback is immediate," he points out. "It complements the one-to-one feedback from the customers."

This is an important point and one which all the companies we spoke to confirmed they took on board - that the user group should not be seen as a replacement for talking to customers individually, ascertaining and then responding to their needs. Was there perhaps a risk that the larger customers would end up dominating such groups at the expense of the smaller ones? "It is actually very egalitarian," says Moffatt. "Customers from smaller companies can still become very active." And by association they will make a difference.

Some people, however, are a little less certain. Neil Salf is in charge of IT for advanced materials specialist Porvair and convenes the user group for enterprise resource planning developer Frontstep. Salf is responsible for the IT for a group of seven small- and medium-sized enterprises and appreciates that an invitation and welcome into a group does not always equate to a busy meeting.

"The problem is attendance - people can't always turn up and we've seen a slight downturn. We scheduled a meeting for February and it clashed with half term, which affected some people," says Salf.

He remains positive about the contacts the group makes with the company, however.

Consultant Linda Symons has been responsible for setting up groups including that for global networking solutions specialist Tivoli, and is currently setting up another for International Security Systems (ISS). In her experience, the infrastructure is everything, and that means having someone to coordinate things around people's availability and head off issues like school holidays - trivial though it might sound at first - at the pass.

"If you don't get that right the whole thing can collapse," she says. "If you think about someone sending out an e-mail to likely members, waiting for a response and then replying, you're delaying things by a few days." Add to that the possibility of someone fitting the task in around something else and you can see how easily stymied such an enterprise can be at the outset.

The impetus for a new user group can come from a variety of sources. Tivoli approached Symons because its users wanted some sort of organisation, but the data on customers was difficult to obtain so they approached mostly customers using the support service.

ISS has taken the other tack and asked for the group to be established in advance of the demand. Putting the group together and building a contact database is complicated by the Data Protection Act - companies cannot just hand over their information, they need to ask permission first. Response is normally good once they have been contacted, though. "More than 50%," says Symons of both Tivoli and ISS. "It is a piece of customer relationship that they like - it is not a difficult sell."

There is a great deal to be said in favour of user groups, yet it has to be conceded that many of the benefits are available to committed users anyway. Moffatt confirms that although in the past the user group would have been the first body of people to get beta copies of software, such programmes are more public now. So, the user group members will almost certainly remain part of such pushes, but everyone else is welcome too.

Consultant Tony Rogerson heads up an independent group for SQL Server users but it is his status as an MVP (most valued programmer) that gets him the right to feed back into private Microsoft newsgroups and to attend summits.

Defining the specific benefits of a "typical" user group is difficult because none are typical - see box opposite and contrast those mentioned with the scale of the HP operation - and because so much of what they do is duplicated by other accreditations. Nevertheless, in terms of networking opportunities and the chance to swap hints, tips and horror stories with peers, so far they remain unsurpassed.

More advice, fewer committees
Not all user groups are constituted along formal lines but that does not necessarily make them any less stimulating or beneficial than those with a more structured approach.

Members of the Nextra (formerly Cix) conferencing system can look in on two such informal groupings. Both Actinic and Palm have active user groups on the Nextra system, operating open conferences that welcome allcomers.

Of the two, the Actinic conference bears closer resemblance to a traditional user group. Actinic's joint managing directors are among the most active members and frequently post personal responses as well as encouraging their technical and development staff to do the same. Customers respond enthusiastically and changes have been put into the product as a result - or an explanation is offered as to why the changes requested are not immediately affordable or practical. This is in addition to the company's more established 500-strong user group which also offers strong technical help.

Other products to support and get feedback from their customers in this way include Nextra itself, which has active feedback conferences, and Virtual Access - an offline reader for Nextra and Compuserve. It has a conference on Nextra and a forum on Compuserve, both of which are monitored by managers and developers.

Less formal is the Palm User Group - resolutely unofficial, it relies on people offering advice in an open conference format and having informal meetings normally associated with public houses and some form of sponsorship - ie free bar for a while - from a Palm developer. If this sounds flippant then it should not - the way to get the most out of a Palm is to investigate the third-party add-ins and conduits to outside applications. These are generally made by companies other than Palm, which cannot justifiably be seen to be endorsing another organisation's products, so the advice-and-knowledge-from-your-contemporaries-instead model comes into its own.

Pros and cons of joining a user group
Advantages

Meeting your peers


Finding out whether your experiences are isolated or common to
all users


Meeting the people who develop the software you are using


Having a formal channel into the company that supplies your mission-critical systems


Extra benefits such as discounts on products and occasional fun stuff - anyone attending a Palm User Group meeting and not walking away with at least a free piece of software is unlucky
Disadvantages

Time spent travelling to and from meetings will not fit in with everyone's schedule - IT managers tend to spend their time managing IT


Some suppliers are wary of organised users en masse


There can be a tendency for manufacturers to think they have "done it" - ticked the box saying they have a user group and no longer need to talk to their customers as a result


Smaller customers can find their interests overridden by overzealous prominent members/corporate customers


If a user group is run ineffectually it can end up running counter to the interests of the members by effectively neutering their points
.
Read more on Data centre hardware