pogonici - Fotolia
Fighting the 'fortress mentality' at DWP – my search for the truth about Universal Credit
IT programme manager and freedom-of-information campaigner John Slater reflects on his four-year battle to force the Department for Work and Pensions to release key documents
In spring 2012, along with investigative journalist and former Computer Weekly executive editor Tony Collins, I submitted freedom of information (FOI) requests to the Department for Work and Pensions (DWP) for four key documents about its controversial IT-enabled welfare reform programme, Universal Credit. Little did either of us know then that, four years later, we would still be fighting for their release.

Download this free guide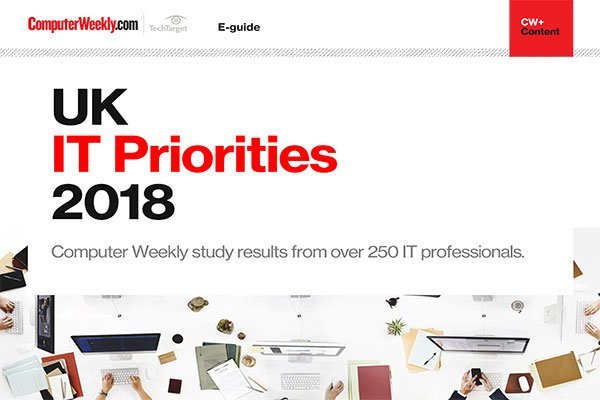 UK IT Priorities 2018 survey results
Download this e-guide to discover the results of our 2018 UK IT Priorities survey, where IT leaders shared with us what they are going to be investing in over the coming 12 months.
By submitting your personal information, you agree that TechTarget and its partners may contact you regarding relevant content, products and special offers.
You also agree that your personal information may be transferred and processed in the United States, and that you have read and agree to the Terms of Use and the Privacy Policy.
The documents – a risk register, an issues log, a milestone schedule and a project assessment review (PAR) report – could potentially reveal the truth about a high-profile government project that was already rumoured to be in trouble.
I submitted my request because there was obviously a gulf between the scale of what was being promised by the programme and the published completion date of October 2017. To add insult to injury, the DWP had opted to use agile development, even though it had no experience of the methodology and it had not been proven in government on this scale and scope.
I am not anti-agile by any means, but trying something new purely because it is perceived to be the only way to meet the department's challenging timetable is not sensible.
Anyone familiar with government departments and FoI requests will not be surprised to hear that the DWP refused to release the documents. After complaining to the information commissioner, who agreed that everything but the risk register should be disclosed, our case proceeded to a tribunal hearing in January 2014. This unanimously decided that all four documents should be released.
The DWP was not happy and appealed on a legal point to the Upper Tribunal (UT), where it won. Despite the same UT judge suggesting that, given the age of the information by this time, the DWP should consider releasing the documents, the department insisted on the expense of yet another oral hearing. This took place in February this year and the result was exactly the same as in 2014 – that the DWP should hand over the reports.
After nearly four years, we now have to wait another 28 days to see if the DWP finally discloses the information or tries to appeal once again. The legal costs for the taxpayer associated with this marathon must comfortably exceed £100,000.
Never disclose
If the DWP does disclose the information, this will be the first time it has ever done so, but hopefully not the last. We learned during the case that the DWP believes this kind of information should never be released to the public.
This was discussed by the judge in the written decision, which said: "The intention [of DWP] would have been that it would never be disclosed, even after having been superseded by the PAR emerging from a later review, such as the one that took place in May 2012."
Read more about Universal Credit
The DWP position remains that disclosure would result in a "chilling effect" on civil servants. This means they will be less candid if they know their work will be published, and documents would therefore become less useful in the future. The only supporting evidence for this claim has been the opinions of civil servants who appeared as witnesses for the department and obviously supported its position.
Independent research published in 2009 by the University College London Constitution Unit, called Impact of FOI on central government, contradicts this view. It said: "FOI has not caused a 'chilling effect' on frank advice and deliberation, or on the quality of government records. The myth persists, but convincing evidence proved hard to find."
I do not believe that civil servants will change their behaviour if this information is disclosed because they take their obligations under the Civil Service Code very seriously.
The DWP also argued against disclosure because the public would not understand the information or it would be "misused" by the media. I disagree with this assertion and find it extremely patronising. It may, of course, reflect the view of the public held by many government departments.
Secretary of State Iain Duncan Smith repeatedly insisted that Universal Credit was going to be delivered on time and on budget, until he was forced to admit it was not
I suspect that the resistance to disclosure by Whitehall about its large IT-related programmes and projects is cultural and political in origin. Government departments are still more familiar with working hidden from the public eye than they are under the FOI regime.
FOI represents a significant culture change for the civil service and requires strong leadership from the top as well as time to settle in. It isn't being helped by politicians heading big departments continuing to send the message that disclosure of information is bad.
The reluctance of politicians arises out of the fear of being held to account when they attempt major changes, such as Universal Credit. They use the myth of the chilling effect to hide behind when faced with an FOI request.
Not reflecting reality
We know for a fact that the statements emanating from the DWP and the secretary of state in 2012/13 about Universal Credit did not reflect reality at that time. In fact, they weren't even close. Had the information been disclosed in 2012 when it was first requested, would anything have turned out differently? I think there is a chance it would.
Even a basic level of public openness about the problems being faced by the team and their awareness of them, or lack of, could have had a positive impact. If expert observers had been able to voice their concerns based on disclosed information, it may have encouraged those working on the programme to step back and take a breath rather than ploughing on until it was too late.
About £130m of public money will be thrown away as a result of the problems that led the project to be "reset" in 2013.
The normal checks and balances, such as the Public Accounts Committee, Work and Pensions Committee and the media, might have been more effective at challenging what was really happening rather than just facing what the National Audit Office called a "fortress mentality" at the DWP. Instead, we had the secretary of state Iain Duncan Smith repeatedly insisting that the Universal Credit programme was going to be delivered on time and on budget – until he was forced to admit it was not.
Hopefully, the DWP will see sense and finally release the information, four years after it was requested. We might finally find out what the department knew about the problems that ultimately led to the project being reset. For example, did it simply ignore them and push on, or was the programme management in place not up to the job?
The PAR should tell us the Major Projects Authority's assessment of the programme and how it was progressing on the actions from the previous PAR held in November 2011.
If the DWP does disclose and the sky doesn't come crashing down, then just maybe that might encourage departments not to be so obstructive when people request information about their major programmes and projects. It might even encourage more people to make and pursue FOI requests about major programmes even if it leads to tribunal hearings. We can only hope that Whitehall's way of thinking will change.
Despite promises of doing things differently, and changes in process and methodology, we still see major public programmes and projects getting into serious problems or failing entirely. I know that more genuine openness about programmes such as Universal Credit throughout their lifecycle is not a universal panacea, but can it really make matters any worse than they are now?
---
John Slater is an independent IT programme and project manager. .............................................................................

Read more on IT for government and public sector