ar130405 - Fotolia
Cloud-based IT services spending tops €1bn in Emea in first quarter
Demand for cloud-based IT services continues to grow in Europe, the Middle East and Africa, with spending exceeding €1bn in the first quarter of 2017
Organisations in Europe, the Middle East and Africa (Emea) spent over €1bn on cloud-based IT services in the first three months of this year, according to research.
In a study of deals signed in the first quarter of 2017, ISG found €3.5bn was spent on IT services, a 19% rise on the same period in 2016.
Emea spending on cloud-based "as-a-service" contracts was 48% higher in the quarter, compared with the same period last year, at about €1bn. These contracts include software as a service (SaaS), infrastructure as a service (IaaS) and platform as a service (PaaS).
Spending on traditional outsourcing – where a supplier takes on responsibility for an IT service and brings its own people in to run it, or develops and supports software – reached €2.5bn, the highest it has been for over 12 months, according to ISG.
But public sector spending on IT services was down by half at €6.3bn, which ISG put down to political uncertainty in Europe. But it said it expects this to recover.
Read more about ISG outsourcing research
ISG president John Keppel said there was reason to be positive, with the Emea market showing strength in both traditional sourcing and as-a-service contracts.
"After a slow start, as-a-service continues to go from strength to strength. As a result of this, and some robust activity in traditional sourcing, we expect high single-digit gains in the Emea market for the rest of 2017," he said.
Globally, €18.7bn was spent on IT services in the quarter. This was 15% more than the preceding quarter, but below the €20.5bn reached in the same quarter last year.
Global spending on cloud-based as-a-service contracts increased by over €1bn, or 38%, in the first quarter of 2017, compared with the same period last year.
In the UK, the €1.4bn worth of contracts awarded was the highest ever for a quarter and came after three consecutive weak quarters.
The largest spending sector was financial services, where cloud-based as-a-service spending has increased by 43% over the past 12 months.
Content Continues Below

Download this free guide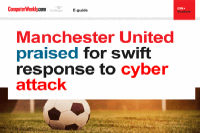 Manchester United praised for swift response to cyber attack
The Theatre of Dreams briefly turned into The Theatre of Nightmares as Manchester United Football Club suffered a cyber-attack on their systems on Friday 20th November. This e-Guide dives into more depth about how the attack happened and what Manchester United's cyber security team did, in order to prevent a loss of data and keep a clean sheet.
Read more on Cloud computing services