ERP implementations, upgrades on the up across Europe in 2014
UK and European IT looks set to review ERP and intensify focus on BPM in 2014, finds TechTarget/Computer Weekly IT priorities survey
British and European IT looks set to review enterprise resource planning (ERP) systems and intensify focus on business process management (BPM) in 2014.
Custom application development is also still showing strong interest, according to the TechTarget/Computer Weekly IT Spending Priorities survey for 2014.
The global survey's European sample slice was 1,319 IT professionals, of whom 299 were UK-based. Some 26% were in application development,13% in application management, and 85% described themselves as working in corporate IT.
Software overall will see the biggest increase in expenditure – 52% in Europe as a whole, and 55% in the UK.
The next highest area for increased spend is hardware – 49% across Europe and 50% in the UK.
For more business applications predictions, 2014
Prediction for 2014: Mobile apps will be the most revolutionary technology
Predictions for 2014: Enterprise content management trends
Top five HR technology predictions for 2014
The biggest operational focus for IT strategy is expanding IT to support business growth – 29% across Europe and 30% in the UK.
To make that happen more easily, IT seems intent on increasing investment in packaged business applications. This is especially the case in the UK, at 24%, as opposed to Europe as a whole at 16%.
Breaking those applications out reveals a significant increase in the implementation or upgrading of ERP systems – 59% in Europe in 2014, in contrast to 43% in 2013.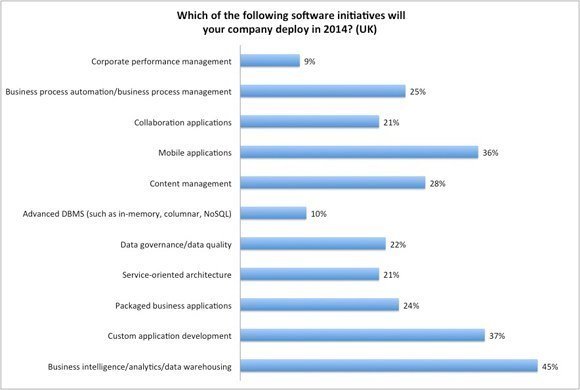 Investment in customer relationship management (CRM) systems remains constant at 51%, while spending on human resources (HR) management software and supply chain management is similar: 25% for 2014, 27% for 2013 with respect to HR; 27% for 2014, 25% for 2013 for supply chain management software.
Spending on financial applications seems to have declined, from 44% in 2013 to 37% in 2014. Those investing in manufacturing software and marketing automation remain similar, within a band of 14-16% regarding the former, and a band of 11-12% for the latter.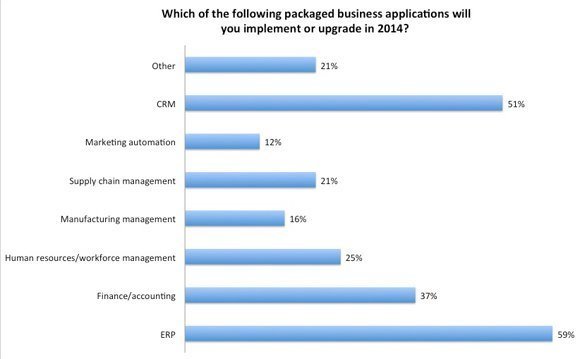 Other stand-outs from the survey:
44% will use SaaS [software as a service], rising to 57% in the UK.
26% are spending on Business Process Management.
19% will implement social media and collaboration software (rising to 26% in the UK).