Storage software revenue soars to $1.9bn
The global storage software market saw a third consecutive quarter of growth as sales of storage resource management applications...
The global storage software market saw a third consecutive quarter of growth as sales of storage resource management applications took off during the second quarter of the year, according to research firm IDC.

Download this free guide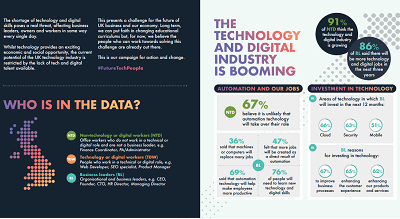 Infographic: How to future-proof UK technology
There is no doubt that the technology industry is booming right now, bringing with it exciting social and economic opportunities. However, there is a real fear that the UK industry may be stunted due to the lack of talent available. This e-guide helps to break down the future fears and expectations of dozens of business leaders and tech workers.
IDC's Worldwide Quarterly Storage Software Tracker showed that the storage software market grew to $1.85bn (£1.03bn) in total revenue, up 16.9% from the same quarter in 2003. The increase was driven by strong demand in storage resources management (SRM) software.
IDC analyst Bill North said device and San management software use grew by 36% year on year, and SRM software growth was driven "primarily by customer need to support larger and more complex storage networks, combined with a gradual decline in the more mature backup and archive software market".
The SRM market now represents "the largest functional market of storage software, growing more than 30% year on year", IDC said.
Backup and archive software continued to grow, showing a 9.2% year-on-year increase. The storage replication software and file system software functional markets also showed strong results in the first quarter, with 13.5% and 18.5% year-on-year growth, respectively.
The battle for the top spot in software sales changed little over the past year. EMC and Veritas Software posted the strongest results among the top five suppliers, with 30.5% and 23.4% growth, respectively.
EMC led the overall market in the quarter, with $602m in revenue and a 32.5% share of the market, up 3.4% over the same quarter of 2003. Veritas held on to second place, with a 22.6% revenue share, gaining more than 1% of market share year on year. Veritas reported $418m in sales from storage software.
IBM and Hewlett-Packard each gained market share against Computer Associates International, which resulted in a three-way tie for third place in the market, with each company reporting about $130m in revenue, IDC said.
In a separate forecast, analysts at Merrill Lynch revised earlier predictions and said the storage software market will grow at 7.3% through 2008. That compares with a combined annual growth rate of 11.2% through 2007 that Merrill Lynch earlier projected.
The fastest-growing segments of storage software are expected to be hierarchal storage management and storage resource management, where EMC has a dominant and growing presence, Merrill Lynch said. The slowest-growing segment will be backup software, where Veritas dominates.
Lucas Mearian writes for Computerworld