Novell launches Linux-compatible OES
Novell has officially launched its Linux-compatible Open Enterprise Server at this week's LinuxWorld conference in Boston.
Novell has officially launched its Linux-compatible Open Enterprise Server at this week's LinuxWorld conference in Boston.
The server combines Novell NetWare and SuSE Linux Enterprise Server services to deliver a file, print, server management, enterprise collaboration and application services solution.

Download this free guide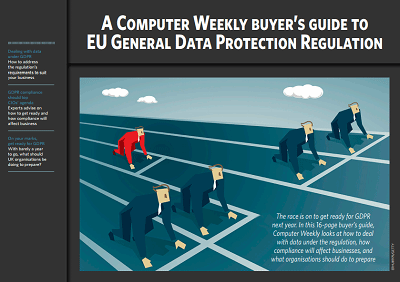 Computer Weekly's Buyer's Guide to GDPR
The race is on to get ready for GDPR next year. Computer Weekly looks at how to deal with data under the regulation, how compliance will affect businesses, and what organisations should do to prepare.
By submitting your personal information, you agree that TechTarget and its partners may contact you regarding relevant content, products and special offers.
You also agree that your personal information may be transferred and processed in the United States, and that you have read and agree to the Terms of Use and the Privacy Policy.
"Novell Open Enterprise Server brings together the best of Novell and the best of Linux," said Jack Messman, Novell chief executive officer.
"Open Enterprise Server truly gives customers flexibility, allowing them to manage their enterprise in a way that makes sense for them, without being confined to a particular platform or supplier, and without the costly 'rip-and-replace' approach to migration," he said.
The server has won backing from hardware and chip suppliers including AMD, Dell, HP, and Intel. Security software companies McAfee and Trend Micro have all given support. These companies said they will bring out solutions supporting OES in the near future.
Novell said OES is aimed at NetWare users wanting to gradually migrate to Linux and Windows NT users who also want to migrate to open-source solutions.
"Organisations are seeking ways to lower overall costs while making their IT investments deliver real business value," said Dan Kusnetzky, an analyst at IDC. "It's likely that Novell will help make Linux a better fit for large-scale deployments in an organisation."
Established NetWare users are still waiting, however, for Novell to produce a roadmap for the future development of NetWare development, independent of Linux. There is concern among some users that Novell is considering pulling the plug on future development, in the light of its commitment to Linux.
Faced with similar pressure regarding its commitment to its GroupWise collaboration package, Novell last week published a four-year roadmap for future development.
Novell Open Enterprise Server will be available in early March and pricing remains unchanged from current NetWare pricing.
Read more on Server hardware