Project Megagrid shows off business side of grid
Hoping to prove that grid computing can work in the business world, Dell, EMC, Intel and Oracle have announced a joint effort...
Hoping to prove that grid computing can work in the business world, Dell, EMC, Intel and Oracle have announced a joint effort designed to show business users how to use the distributed computing technology.

Download this free guide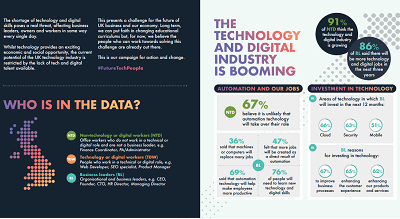 Infographic: Future-proofing UK technology
The current potential of the UK technology industry is restricted by the lack of tech and digital talent available. Read through this challenge for the future of UK business and our economy.
By submitting your personal information, you agree that TechTarget and its partners may contact you regarding relevant content, products and special offers.
You also agree that your personal information may be transferred and processed in the United States, and that you have read and agree to the Terms of Use and the Privacy Policy.
Called MegaGrid, the project is being hosted at Oracle's Global IT Data Center in Texas, but company executives were also demonstrating the technology at Oracle OpenWorld in San Francisco.
"Project MegaGrid really is a way for the average customer to run a business application in a grid infrastructure," said Judy Chavis, director of business development with Dell's enterprise product group. "It's more than a proof of concept; it's a real application."
Dell and the other companies involved as part of the first phase of the project have built systems that cluster together as many as 28 Dell PowerEdge 1750 servers. They intend to publish best practices guides for deploying and managing large clusters based on Red Hat's Linux operating system and using their combined technologies.
A second phase of the MegaGrid, expected to be completed in 2005, will involve clusters of as many as 128 PowerEdge 1850 servers, and will incorporate operating systems from Novell and Microsoft, Chavis said. The companies expect to eventually publish best practices guidelines for a number of enterprise applications, Chavis said.
MegaGrid is designed to show customers how they can use Dell's systems to run applications and workloads that have traditionally been considered only for large symmetric multiprocessor computers, like those sold by IBM, Sun Microsystems and Hewlett-Packard, Chavis said. "We're taking a traditional customer workload that you normally run on a big Unix box and are running it for a fraction of the cost," she said.
The MegaGrid project has already taken a BT online transaction processing application, previously run on a $2.9m (£1.5m) Solaris system and ported it to a configuration of 10 Dell servers that sells for $69,000 Chavis said.
More information on MegaGrid can be found here: www.oracle.com/technologies/grid/megagrid.html
Robert McMillan writes for IDG News Service