HP regains PC lead
Hewlett-Packard regained the lead in worldwide PC shipments in the fourth quarter of 2003, but Dell managed to hold onto its lead...
Hewlett-Packard regained the lead in worldwide PC shipments in the fourth quarter of 2003, but Dell managed to hold onto its lead for the full year, as the PC industry recorded one of its better years in recent memory, according to preliminary figures from IDC and Gartner.

Download this free guide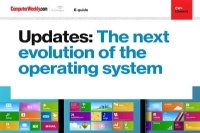 Unpacking the future of operating systems
In this e-guide, we take a look at how updates are the next evolution for operating systems. From security and iris recognition to 3D modelling and easier recognition with OneDrive, updates are key to keeping your device fresh and, most importantly, safe.
HP shipped 7.5 million PCs worldwide in the quarter, up 21% from its fourth-quarter 2002 shipments of 6.2 million. Dell followed with worldwide shipments of 7.2 million units, up 19.7% from its fourth-quarter 2002 tally of 6.1 million units, according to IDC.
Gartner came up with similar numbers, with HP shipping 7.5 million units worldwide, an increase of 21.8% from the fourth quarter of 2002, and Dell shipping 7.1 million units, up 19.7% from a year ago.
Total fourth-quarter PC shipments reached 48.4 million units, according to Gartner, up 12% from the previous year. IDC pegged the total at 44.6 million units, an increase of 15.2%.
The fourth quarter is always a strong one for consumer purchases, and HP has a stronger presence among consumers with its focus on retail markets, said Roger Kay, vice president of client computing for IDC.
"This shows it's still a two-horse race. The switching off is reflective of their differing segment focus. In more commercial quarters, Dell gets back," he added.
Commercial buying probably increased in the quarter, but not as fast as consumers picked up holiday gifts for themselves or their families, Kay said, who predicted that the fourth quarter could mark the start of a four- to five-quarter upswing in PC buying among businesses,.
For the full year, Dell shipped 25.8 million units, up 25% from its 2002 total of 20.7 million. HP came in second with 25.0 million units, up 14.5% from 2002 shipments of 21.8 million units worldwide, according to IDC.
Gartner reported slightly lower numbers for both companies, finding that Dell had shipped 25.3 million units, up 25.8% from 2002. HP followed with 24.2 million shipments for the year, up 12.3% from 2002.
Total worldwide shipments for 2003 were 152.6 million (IDC) and 168.9 million (Gartner). The total shipment numbers are different, because Gartner counts a larger percentage of self-assembled and unbranded "white box" PC systems, according to Charles Smulders, the vice president of client platforms at Gartner.
IDC and Gartner both define their PC shipments as desktops, notebooks, ultra-portable devices, and servers based on chips from Intel and Advanced Micro Devices.
The remaining spots in the top five suppliers worldwide were filled by IBM, Fujitsu-Siemens Computers, and Toshiba. All posted double-digit per cent increases in year-on-year growth, except IBM, which grew at 12.2% (IDC), and 8.8% (Gartner).
In the US, E-Machines Inc. made a strong showing in the retail-dominated fourth quarter, edging out Gateway for fourth place among shipments to US PC buyers. However, the companies both shipped just under 500,000 units, far less than HP and Dell, IDC said.
Tom Krazit and Robert McMillan write for IDG News Service