Veritas releases major software upgrades
Veritas Software has announced major upgrades to its storage backup products which are designed to tackle the management of data...
Veritas Software has announced major upgrades to its storage backup products which are designed to tackle the management of data in an automated, policy-based manner and address regulatory compliance needs.

Download this free guide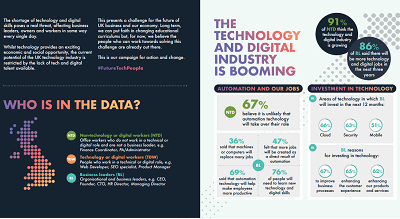 Infographic: How to future-proof UK technology
There is no doubt that the technology industry is booming right now, bringing with it exciting social and economic opportunities. However, there is a real fear that the UK industry may be stunted due to the lack of talent available. This e-guide helps to break down the future fears and expectations of dozens of business leaders and tech workers.
The latest products include NetBackup 5.0, Data Lifecycle Manager 5.0 and CommandCentral Service 3.5, said Glenn Groshans, director of product marketing at Veritas.
NetBackup 5.0 allows storage administrators to use incremental backups of business applications on top of a previous full backup to create updated, full restorations of that data.
Previously, full backups, which take hours to complete, were required for administrators to restore business applications.
When used with Data Lifecycle Manager 5.0, the software creates a virtual archive and indexes the data for later searches and retrieval, both of which are required by regulatory agencies.
"It lets you maintain an audit trail on all media types," Groshans said. "You can set policies that define how you want data handled based on characteristics such as file type [and] workgroups... and push that policy out to servers."
For example, he said, a legal department might want to set a policy that all financial documents be saved for two years on near-line disc arrays and then migrated to tape for an additional five years.
Veritas has also integrated its CommandCentral software with its flagship NetBackup and Backup Exec applications to create a single management interface.
CommandCentral is a utility computing application for backup and recovery on disc subsystems. The web-based portal allows an IT manager to define levels of storage service based on user needs and reports back on those systems for chargeback purposes.
Steve Kenniston, an analyst at Enterprise Storage Group, said Veritas' latest offering still falls short of a true information lifecycle management product, which would automatically manage data storage from creation to deletion.
Although the Veritas software does not capture the data at the business application level, Kenniston said the company has addressed a large number of issues facing storage administrators, not the least of which are service-level agreements and chargeback.
Lucas Mearian writes for Computerworld