NTT to push voice, data wireless IP device
Broadband enterprise and residential customers of Japan's NTT-ME, a subsidiary of Nippon Telegraph and Telephone East, may soon...
Broadband enterprise and residential customers of Japan's NTT-ME, a subsidiary of Nippon Telegraph and Telephone East, may soon be able to roam across corporate and residential broadband networks as well as wireless Lan (WLan) hotspots with just one wireless device.

Download this free guide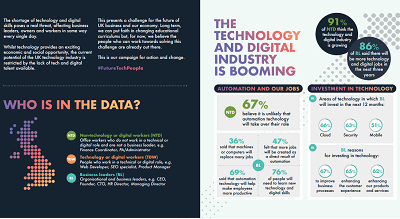 Infographic: How to future-proof UK technology
There is no doubt that the technology industry is booming right now, bringing with it exciting social and economic opportunities. However, there is a real fear that the UK industry may be stunted due to the lack of talent available. This e-guide helps to break down the future fears and expectations of dozens of business leaders and tech workers.
NTT-ME has struck a deal to have its Universal Plug and Play software incorporated into Agere System's wireless IP chipset which integrates WLan and voice-over-IP (VoIP) technologies.
Under the deal, Agere will offer a development platform and reference design for handset manufactures to build low-cost phones that are interoperable with the enterprise and residential broadband networks deployed by NTT-ME, Japan's largest broadband service provider.
Samples of the wireless IP telephony chipset and development platform will be available in September, with volume shipments expected in the first quarter of 2004, according to Agere. Prices for complete chipsets will begin at $30 per unit in sample qualities.
The chipset is designed to meet the compact form-factor and low-power consumption requirements of today's handheld wireless devices, according to Agere.
The system offers performance benefits that will significantly improve the talk and standby times of wireless IP phones already available on the market.
The wireless IT telephony chipset includes the following components:
The T8307 system-on-a-chip, which provides VoIP call control and voice processing by integrating Agere's DSP (digital signal processing) 16000 capabilities with an ARM946E-S microcontroller and advanced input/out capabilities.
The WL60010 802.11b media access controller chip, which provides programmable host interface support, one megabyte of on-chip memory and a "glueless" interface to Agere's 802.11b radio chipsets and modules. This chip is certified for the Wi-Fi Protected Access (WPA) security standard.
The WL1141 PHY module which, according to Agere, is the industry's first integrated 802.11b radio and baseband device.
The CSP2200 chip, which integrates enhanced-quality audio codecs, power management tools, battery charger and ringer control drivers.

John Blau writes for IDG News Service