Enterasys anticipates loss and plansrestructure
Enterasys Networks expects to report losses for both the fourth quarter of 2001 and the first quarter of 2002. The company, which...

Download this free guide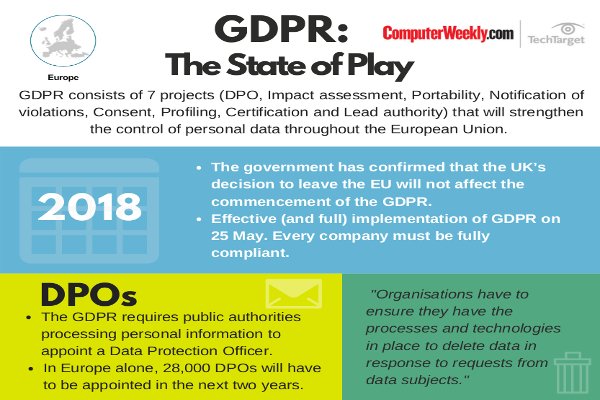 Infographic: GDPR - The State of Play
Get the latest information on how GDPR is going to affect your business and how to avoid any unwanted fines with this simple infographic.

Enterasys Networks expects to report losses for both the fourth quarter of 2001 and the first quarter of 2002. The company, which lost its chief executive officer, chief operating officer and executive vice president of worldwide marketing last week, also plans to restructure.



The networking vendor's fourth-quarter results had been delayed on 1 February after accounting questions arose regarding Enterasys' Asia-Pacific operations.

In a statement released last week, the company said that Enrique Fiallo, Enterasys' chairman, chief executive officer (CEO) and president, would leave the company to pursue other business opportunities. Jerry Shanahan, the company's chief operating officer, and JE Riddle, the vice-chairman and executive vice president of worldwide marketing, also left the company.

William O'Brien, former global managing partner and director at PricewaterhouseCoopers LLP, is to take over as interim CEO. Yuda Doron, who previously managed Computer Associates International's sales channel is to take over as president. Doron will assume many of the responsibilities previously held by the chief operating officer, said Kristen Sheppard, senior director of investor relations at Enterasys.

She added that the company's board has already begun the search for a permanent CEO, and that O'Brien is prepared to stay on as long as that search takes.

Enterasys said last week that its expects its fourth-quarter revenue to be between $145m (£101m) and $155m (£108m), down sharply from the $221m (£154m) the company had previously reported it had brought in for the quarter.

The company's first-quarter 2002 results will also include an operating loss based on revenues of between $110m (£77m) and $120m (£84m), the company said.

Enterasys also expects a cash decrease of $70m (£49m) for the quarter, which ended 30 March. It blamed the drop on the economy, poor sales execution and an investigation by the US Securities and Exchange Commission that began at the start of this year.

That investigation has had a tangible affect on the company and has caused some customers to delay their purchases, Sheppard said.

Enterasys will restructure the company and improve its cash flow, said Robert Gagalis, chief financial officer, in a statement.

That restructuring will be detailed soon, Sheppard said, declining to provide details of the restructuring beyond saying that the company would look to reduce costs and improve sales. She also declined to comment on whether the restructuring would entail job cuts.
Read more on IT legislation and regulation